Meet Latino community leaders who are forging a brighter path for Houston
Houston heritage is Hispanic heritage. The remarkable contributions of Houston's Hispanic community can be felt in nearly every square inch of our sprawling region, forming a trajectory that aligns closely with our region's future.
Within the next ten years, Hispanic/Latino* residents are projected to make up over half of the Greater Houston-area population, and as their presence increases, so too does their impact in our communities. Latino leaders are making vital contributions in nearly every aspect of Houston life — from speaking out for human rights and immigrant protections, to advocating for educational equity, to contributing to our arts and culture, to empowering communities of color through organizing and entrepreneurship.
When it comes to making Houston a more vibrant, opportunity-rich region, these leaders are blazing new trails. An important note: We recognize that this list is far from exhaustive. If you know of a leader or organization that we should cover, please let us know!
Celesté Arredondo-Peterson
Campaign Director at Texas Organizing Project – Houston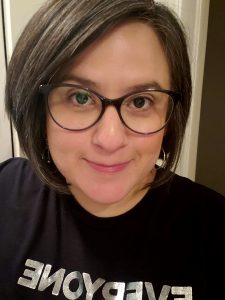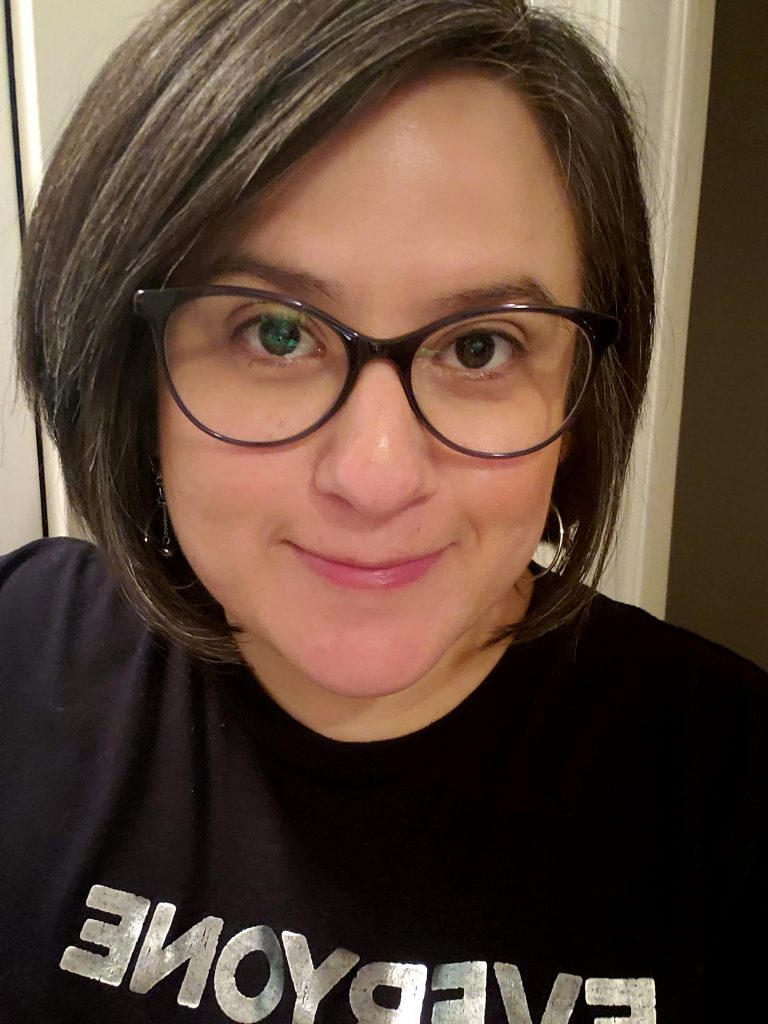 As our region continues to grow, access to quality housing remains an issue for new and established residents alike. More than one-third of Houston's three-county area population does not live in adequate or affordable housing, and the problem is only getting worse — especially for Houston's Black and Hispanic residents.
Fortunately, people like Celesté Arredondo-Peterson and the Housing Justice team at Texas Organizing Project are working tirelessly to ensure that Black and Latino communities have access to the safe housing conditions that can help residents achieve their dreams and reach their fullest potential.
"Texas Organizing Project has been organizing with Black and Latino communities in Houston for 10 years. I like to think of community organizers as power paleontologists; it's our job to unearth the power that exists in our communities…together we can demand the American dream we were sold."
For Celesté, these dreams and ambitions are more than just vague notions. She takes the time to hear residents in underserved communities and sees the potential that lies inside each and every one of them. "I spend a lot of time on people's porches … their living rooms, talking to people about the things they care about. Their hopes and dreams for their families and what they want out of life," says Celesté of her work in Houston's Black and Latino neighborhoods. "The people I talk to have often been kicked in the teeth by a hurricane or the criminal legal system… (But) they remain hopeful that things can be different, that people can change and that their community will be there for them — because history has shown that to be true."
Moving forward, Celesté and TOP have their sights set toward Washington, D.C. as they continue the fight for better Houston-area housing. "In Houston, we are building a movement of tenants who can demand the kind of housing solutions that our families so desperately need. And on January 20, 2021 we will join a nationwide call to action for our nation's leaders to do their job and take the necessary steps to ensure the working people of this country aren't left behind during this economic disaster."
Andy Canales
Executive Director of Greater Houston at Latinos for Education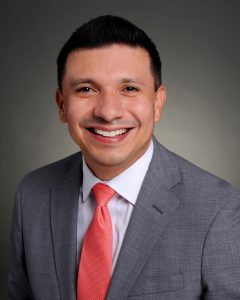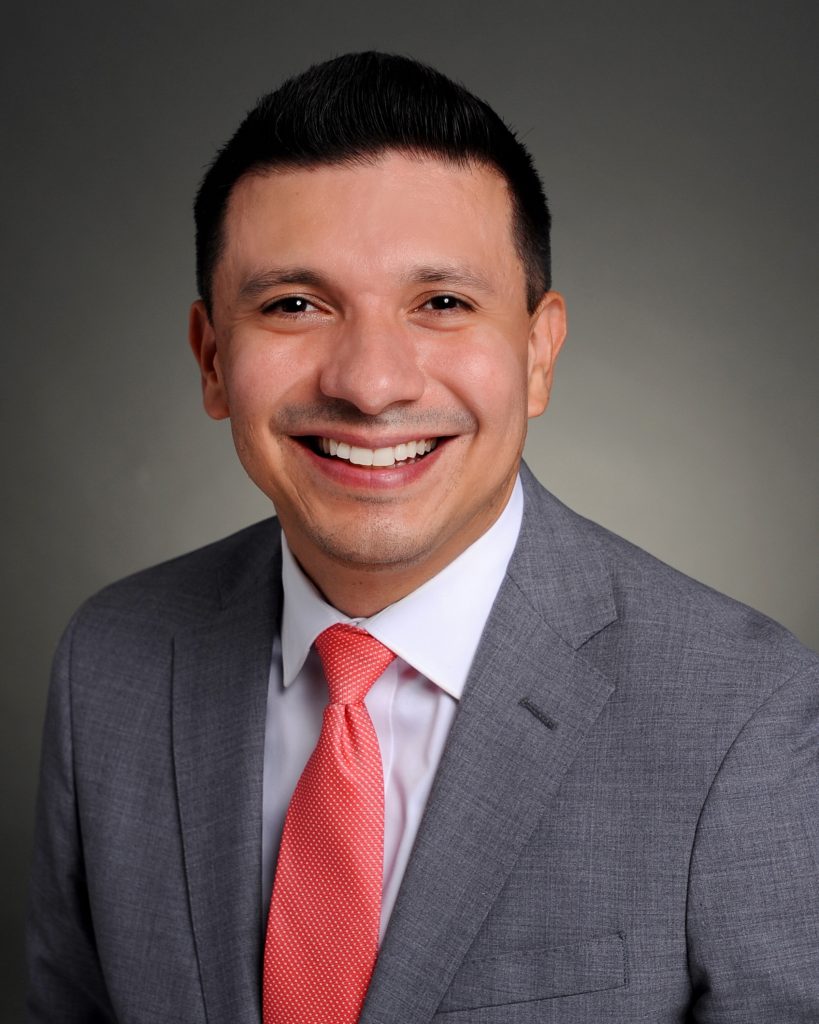 Hispanic/Latino students are the future of Houston schools. Today, more than half of Houston-area public school enrollees are Hispanic, and with nearly half of Houston-area children under the age of five being Hispanic, that trend isn't likely to change any time soon. As such, it's vital that Houston's education leaders reflect their student bodies, and that Latinos are in positions of influence in the education sector.
As the Executive Director of Greater Houston for Latinos for Education, Andy Canales is dedicated to ensuring that Houston's world-famous diversity translates into world-leading opportunities for students of all backgrounds.
"We, at Latinos for Education, deeply believe that representation matters and that our solutions in education can be even more effective if we incorporate the Latino voice in decision-making," says Canales of his work in Houston. "We equip more Latino leaders to be at the forefront of education change by training and placing them on boards of education nonprofit organizations and helping those that work inside the education sector to increase their sphere of influence."
Since beginning their work in Houston in 2018, Latinos for Education has helped to develop 70 Latino leaders in the education sector, as they aim to establish a stronger infrastructure for Latino voices in Houston-area education programs. But Andy's ambitions for his work aren't limited to the Hispanic community. "One of our core values at Latinos for Education is 'Bridge Across Cultures.' We see value in knowledge, relationships, and ideas that may be different than our own. We seek to learn, grow, and become more inclusive with others in a multicultural world."
Raúl Orlando Edwards
Founder/Director at FLAMART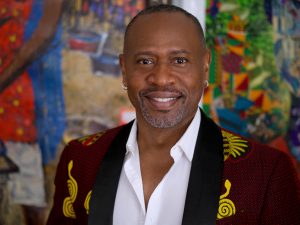 Community access to the arts is about more than just entertainment. The arts inspire community pride, spur economic activity, and can even improve education outcomes. And while Houston may be home to several world-class arts and culture organizations, not everyone is able to participate equally. While 75% of surveyed Hispanic Houstonians say they view the arts as important, only 40% report being able to attend an artistic performance in the last year. Similarly, Hispanics represent a small percentage of artistic professionals across our region's creative sector.
It was in this gap between interest and engagement that Raúl Orlando Edwards founded FLAMART (Featuring Latin American Music and ART). FLAMART is dedicated to promoting Latin American voices in the arts through a variety of innovative programming, including dance, music, festivals and more. "I would like to see a city that honors the traditions and histories of its people," says Edwards of his goals for FLAMART. "Our goal is to exemplify the cultures that make up Houston and find solutions to problems."
"The reason my organization came to be was because we saw that there was an incredible void in the way Latin American arts was being represented in Houston; there was very little recognition of the African part of Latin America and to the indigenous regions there as well. One of the things we noticed was how those groups were represented and so we decided to do something where all of these cultures were represented with the dignity and respect they deserve."
Despite the gulf in representation, Raúl has found in Houston a rich tapestry of multicultural exchange, and is inspired by Latino trailblazers like Alice Valdéz and Luz Mouton. Moving forward, Edwards and his fellow artists at FLAMART are working to expand their annual Latin Week Houston event, and hope to continue sharing these experiences in-person as soon as they can.
Marilu Garza
Chief Development Officer at The Center for Pursuit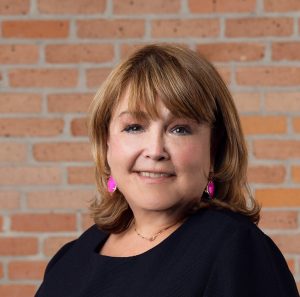 We often speak of Houston as a welcoming and inclusive region. Living up to that reputation means respecting the rights and needs of people with disabilities. Just one sign that we have work to do in our education system alone is a 2019 report by the U.S. Department of Education, which found that the Texas Education Agency capped the statewide percentage of students who received special education services in order to control costs. Not only are there challenges, there are opportunities to support adults and children with disabilities on their journey of choice, growth, and independence.
That is where Marilu Garza and The Center for Pursuit continue to provide support. "With a brand new campus being built in the East End, we will bring together other groups in this area as collaborators who can work together to give these clients a true shot of choice, independence and growth, and serve as a voice for those who have a voice but whose voice is not always heard."
"We want to help families continue to navigate through the difficult waters that lie ahead of them as they attempt to find services in the areas of health, education, employment, and living situations for their children," says Marilu of her work with The Center for Pursuit.
Marilu had a granddaughter born this year on March 23, and her vision for her and all children and adults in the Houston area is that they continue to live in a city with increasing opportunity for all. She believes that Houston is a place that can continue down this path toward growth and inclusivity.
"I am always amazed by our resilience. We can be knocked down but rarely are we out. We respond by reaching out to help our neighbors. When COVID-19 became a reality, we made sure that our elderly were taken care of, that our homeless were safe, and that our front-line workers were honored for this service. I, like so many others, remain HOUSTON PROUD!"
Estella Gonzalez
Director of Education and Economic Opportunity at BakerRipley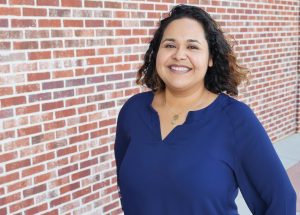 Houston may struggle with economic inequality, but the Houstonian spirit of giving and the hard work of everyday residents supports our region's rise above our challenges. It's this spirit of giving that inspires Estella Gonzalez and her partners at BakerRipley to work tirelessly for a more opportunity-rich Houston.
"BakerRipley inspires positive change by truly working side-by-side with community members… We believe that the most important assets in a community are the residents — they are capable and powerful enough to create meaningful change in their neighborhood, we simply give them a safe space to do it in, and support them along the way. Although the organization has been around for longer than a century, it hasn't changed its mission of bringing resources, education, and connection to emerging neighborhoods."
Most recently, Estella spearheaded a social enterprise project in Houston's Aldine community, helping to develop small businesses in the area through the establishment of a commercial kitchen, a business incubator, and a co-working space. Though the ongoing COVID-19 pandemic requires flexibility in planning for the future, Estella is "…focusing on making sure we continue to provide quality programs that our community needs and that my staff are taking care of themselves at the same time" and remains inspired by her fellow Houstonians.
"The way Houstonians help each other is inspiring. Ask anyone about what it was like during Hurricane Harvey and you are sure to get stories about homes being destroyed and lives uprooted, but know what else you will hear about? Neighbors helping neighbors. It didn't matter where you lived, there were Houstonians showing up in Fifth Ward and Kingwood to help clear out homes and just lend a helping hand."
James Llamas
Principal at Traffic Engineers, Inc. and Board Member of LINK Houston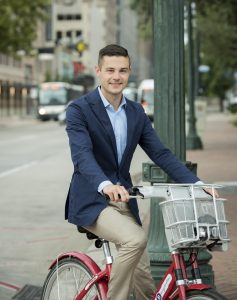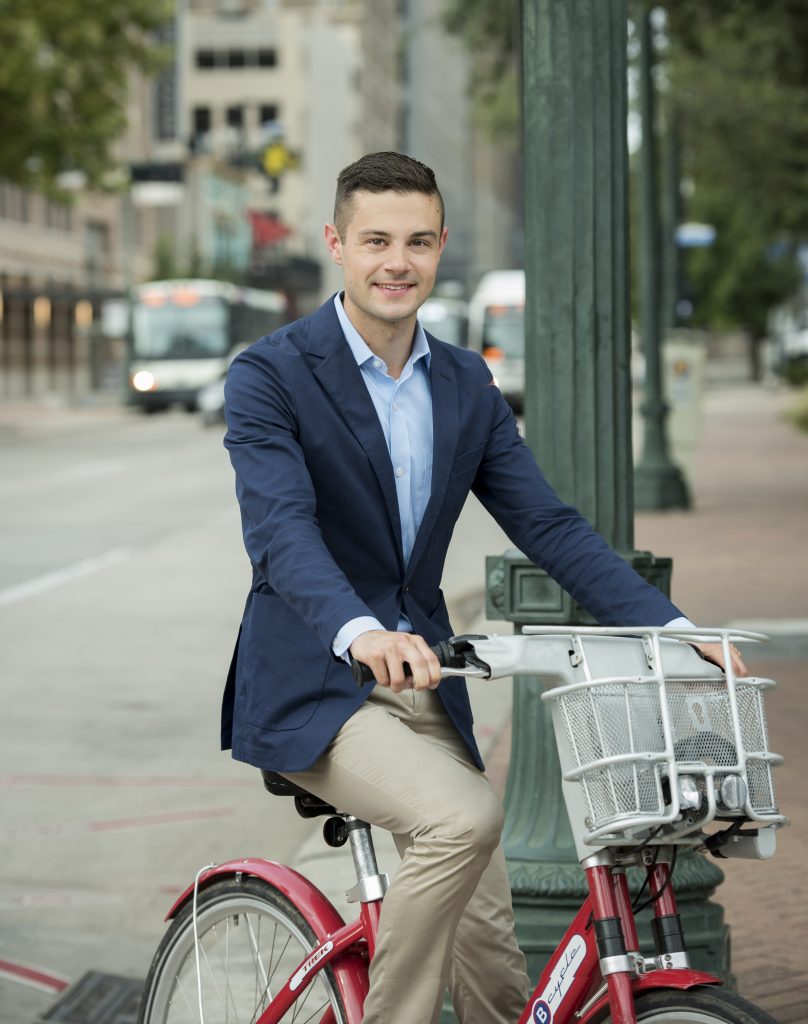 It's no wonder that Houston has developed a reputation as a "car town." Households in Greater Houston have higher rates of car ownership than the national rate, contributing to an annual congestion-associated cost of $1,490 per vehicle. While some have become complacent, James Llamas and his partners at LINK Houston and Traffic Engineers, Inc. are advocates for safer, equitable and more diverse transportation options for residents throughout the Greater Houston area.
As a member of Houston Bike Share and the Midtown Management District Urban Planning Committee, James is inspired by Houston's spirit of continuous improvement, and is taking an active role in making Houston's urban areas more walkable, more bike-friendly and less reliant on cars. "I'd contend that more people have the ability to ride a bike than to drive a car. However, not everyone has the skills, desire, or budget to own and maintain their own bike … We offer 1,200 bikes available at 112 stations and counting for people to make short trips around the city. We're expanding to more neighborhoods all the time with help from partners like Council Member Karla Cisneros and Commissioner Rodney Ellis and have launched a GO Pass program to ensure bike share is affordable to all," says James of his work with Houston Bike Share.
In his work with LINK Houston, James is helping to stand up against the controversial I-45 expansion project (NHHIP), which opponents believe will disproportionately impact Houston's communities of color. "Segregation, wealth disparities, and the persistence of poverty are the results of deliberate policy decisions over many decades. It will take a concerted and sustained effort to undo that legacy, and LINK is taking on this challenge in Houston."
Felipe Lopez
Local Houston Artist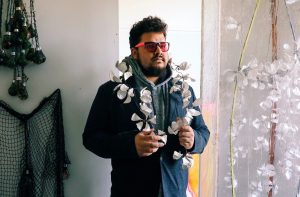 Over the past 25 years, the three-county area has seen an increase in the number of arts and cultural organizations. Along with that has come an increase in the diverse perspectives the arts community can utilize to shed light on issues such as health, education, environment, and more, which is exactly what local Houston artist Felipe Lopez has done.
"My work has progressed within themes of environmentalism with each piece highlighting our relationship to nature, the precious commodity of water, and how we choose to help (or oftentimes neglect) the natural world around us. I hope to inspire change within the arts to look and find more conscious choices to hopefully not just visually inspire people but give them a chance to reflect on our conservation opportunities as well."
A few organizations that have inspired Felipe in his artistic endeavors include Fresh Arts, which "allows artists to step out of the studio and meet with colleagues who can give guided perspective and useful knowledge on topics that will reshape a creative's thinking to propel their career forward in a more focused fashion." Other inspirational organizations include Art League Houston, which "continues to expand their dedication and cultivation of local talent" and Houston Arts Alliance, where Felipe served on their Disaster Recovery Board and received an Individual Artist Grant in 2019.
He is currently working with others to reimagine, in the face of this pandemic, "the way business in the art world is completed that favors the livelihood and wealth of ideas from creative individuals and their families." Felipe will also feature his visual art and set design in a collaboration with Emmanuel Outspoken Bean and Meghan Hendley of Chapel in the Sky through the Houston Artist Commissioning Project he was awarded by the Society for the Performing Arts. Additionally, he has a beautiful array of progressive work in the Texas A&M Corpus Christi Oso Bay Biennial XXI Group Exhibition.
Dr. Norma Olvera
Executive Director at BOUNCE and The Latino Health Disparities Lab at UH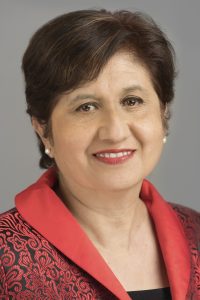 On average, the three-county Houston area has a higher percentage of food-insecure households than the state or the nation with food insecurity being defined by the U.S. Department of Agriculture (USDA) as a lack of consistent access to adequate food for a healthy life. The Houston area also shows a higher percentage of obesity among Black, Hispanic and low-income adults. The opportunity for all residents to have a healthy lifestyle is essential for a thriving community as gaps in health behaviors such as lack of physical activity, obesity, and food insecurity account for 40% or more of health-related deaths in the United States. Through her Behavior Opportunities United Nutrition Counseling and Exercise (BOUNCE) program, Dr. Norma Olvera is educating community members on ways they can improve their health through physical activity and healthy eating, no matter their environment.
"Through my work, research, and other activities I'm very much an advocate for health equity and education equity. What that means is that every person has the same opportunity to be healthy and be educated."
Dr. Olvera's BOUNCE program empowers families to make healthy choices through a comprehensive program that promotes a healthy mind and body. "I believe in working to make the families agents of change. I work with schools and parents and teachers as well to some degree but I believe the best way to start a positive change is from the roots by starting with the individuals and families."
Through her work, Dr. Olvera, is inspired by Pamela Quiroz, Director of the Center for Mexican American Studies at UH, who "…always has the courage to stand up for what is right for the Hispanic community" and Daisy Morales, Vice President of Community Affairs at Community Health Choice, for "…her ability to have hard conversations when it comes to insurance and health access for the Hispanic community but being able to approach it with finesse."
"These two women really go above and beyond and are really committed to improving the community."
Angelica Razo
Texas State Director at Mi Familia Vota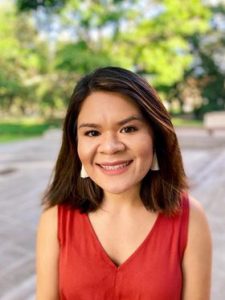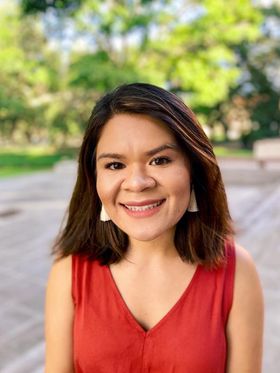 As Hispanic residents form an increasingly large portion of Greater Houston's population, political participation and representation are and will continue to be of vital importance in ensuring that all residents are given fair opportunities in our communities. Unfortunately, Hispanic candidates remain underrepresented in local offices and elections, and Hispanic residents are registered to vote at a lower rate than other Houston-area ethnic groups.
As the Texas State Director at Mi Familia Vota, Angelica Razo is committed to tackling these shortcomings at the root so that Latino Houstonians of all backgrounds and income levels can use the tools of civic engagement to better the world for those around them.
"Our organization believes that democracy should be accessible to everyone, and in order to achieve positive change in Houston, community members really need to understand the issues impacting them and then advocate by voting and speaking to their elected officials in order to have ownership to improve their quality of life."
Though much work remains to be done to create equitable Latino representation in our political process, Angelica knows that if any region can overcome such barriers, it's ours. "There is a saying in Spanish, no te rajes ("Do not give up"). It's a mantra that I see Houstonians live up to and it shows through their hard work ethic, perseverance, dedication, and kindness to their neighbors."
Even with the 2020 election coming soon, Angelica and Mi Familia Vota are already looking ahead to 2021 for opportunities to advocate for better environmental justice, immigration, education and healthcare policies.
Daniana Trigoso-Kukulski
Executive Director at Fe y Justicia Worker Center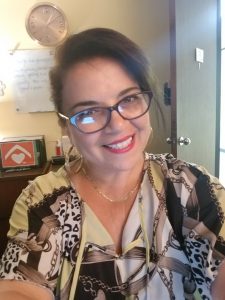 Prior to the pandemic, Houston experienced faster job growth and more industrial diversity compared to the nation and state, largely thanks to the contributions made by immigrants who strengthen our labor force and generate demand for goods and services within our local economy.
Not all Houstonians have prospered — even during boom times — with 40% of working families economically insecure. Some of these individuals are immigrants without a high school education and almost half (49%) of jobs accessible to workers without bachelor's degrees are considered lower-wage.
Daniana Trigoso-Kukulski, at the Fe y Justicia Worker Center, remarks that, "The construction and service industries are particularly dependent on immigrant labor today, but other sectors such as domestic workers who have been on the front line in this tragic worldwide pandemic have been forgotten or erased out of the political and economic changes that have happened."
Daniana has been working hard with the immigrant community to empower them with information on their rights as workers. "We have assisted with legal and advocacy help, but also provided a safe space where those who are discriminated against and rejected by the working community can receive education and empowerment to address their status."
When it comes to Houston, Daniana greatly admires, "…the passion and driving spirit that the immigrant community brings to the economy, in areas that are so crucial to the national wealth such as medicine, construction, oil, and other important industries."
But true to the spirit of the Fe y Justicia Worker Center, Daniana knows there's still more that can be done to improve Houston by "…helping authorities, organizations, and the general community understand what immigrants with drive, luck, talent, and creativity bring to… economic life…"
Ruth Lopez Turley
Founder/Director at Houston Education Research Consortium – A Program of The Kinder Institute for Urban Research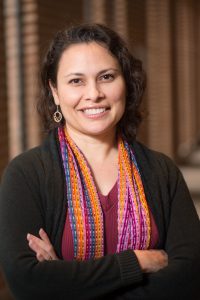 With Hispanic, Black, and economically-disadvantaged students in the Houston area being less likely to meet or exceed grade-level expectations on third-grade STAAR Reading Exams and eighth-grade STAAR Math Exams, it is likely we need to reexamine whether or not our public education system is distributing resources in an equitable manner.
As founder and director of the Houston Education Research Consortium (HERC), a program of The Kinder Institute for Urban Research, Ruth Lopez Turley and her team produce research to improve education equity by race, ethnicity, economic status, and English language learner status through a research practice partnership between Rice University and 11 Houston-area school districts. Ruth envisions a Houston where these differences in backgrounds continue to add a positive impact to the culture and diversity of the Houston community and are no longer barriers to educational opportunities.
The conception of HERC was based on Ruth's previous interest in and conversations with the UChicago Consortium on School Research. "I was really inspired by the way they were doing education research and their partnership with the Chicago Public Schools and saw that not a lot of academic researchers were doing research in that way in partnership with schools."
"I'm interested in producing research that can be directly accessed and used by district leaders. Research is often considered a luxury item as it is expensive to do well, but I want HERC to provide the resource of our research capacity to our community and don't want it to be just about learning in an academic sense. We are explicitly trying to have an impact on the educational opportunities that students in the Houston area have and are really trying to make sure the research we are producing is informing those efforts."
Ruth sees Understanding Houston as a great step in the right direction to start pulling information together in one place and increasing collaboration and comments that, "There is still a lot to pull off but I think the Foundation's efforts to help us be better coordinated is a great start."
Going forward, Ruth would like to think even deeper about what can and should be done in order to make progress towards education equity by addressing the underlying structural barriers within the system.
*Racial and ethnic labels are by their very nature imperfect, and in many ways evolving. For simplicity here, we use Hispanic and Latino interchangeably in this blog, with most data on Understanding Houston utilizing the U.S. Census term "Hispanic" or Hispanic/Latino.