While progress is being made in the criminal justice system, much work remains to be done in removing racial disparities and the life-long consequences of incarceration.
In partnership with Arnold Ventures, the Greater Houston Community Foundation held a Criminal Justice Reform program on September 24 to educate and engage donors on various aspects of the criminal justice system nationally and locally. The program featured Dr. Howard Henderson, Founding Director, Center for Justice Research at Texas Southern University; Julie James, Director of Criminal Justice, Arnold Ventures; Sebastian Johnson, Advocacy Chief of Staff, Arnold Ventures; and Sybil Sybille, Pure Justice Fellow. We invite you to watch the full conversation here.
The informative conversation revealed five key insights about criminal justice and how we can improve the system for all.
1. The criminal justice system is expansive, has grown significantly in recent history, and affects everyone.
One out of 37 American adults is currently under control by the criminal justice system (i.e., imprisoned, parole, probation), or nearly seven million people, according to Bureau of Justice Statistics data analyzed by Arnold Ventures. About two-thirds of those are under community supervision (otherwise known as probation or parole) which are "hidden" drivers of mass incarceration.
"It hasn't always been this way," Julie James from Arnold Ventures states. The number of people incarcerated or under community supervision nearly tripled from 1980 to the peak in 2008. "This is historically and internationally unprecedented. The United States has just 4% of the world's population, yet about 25% of the world's prisoners are in the U.S.," James reports. Of course, incarceration is not felt in a vacuum — entire communities and families are disrupted when someone goes to jail, such as the more than 5 million children who have had a parent incarcerated.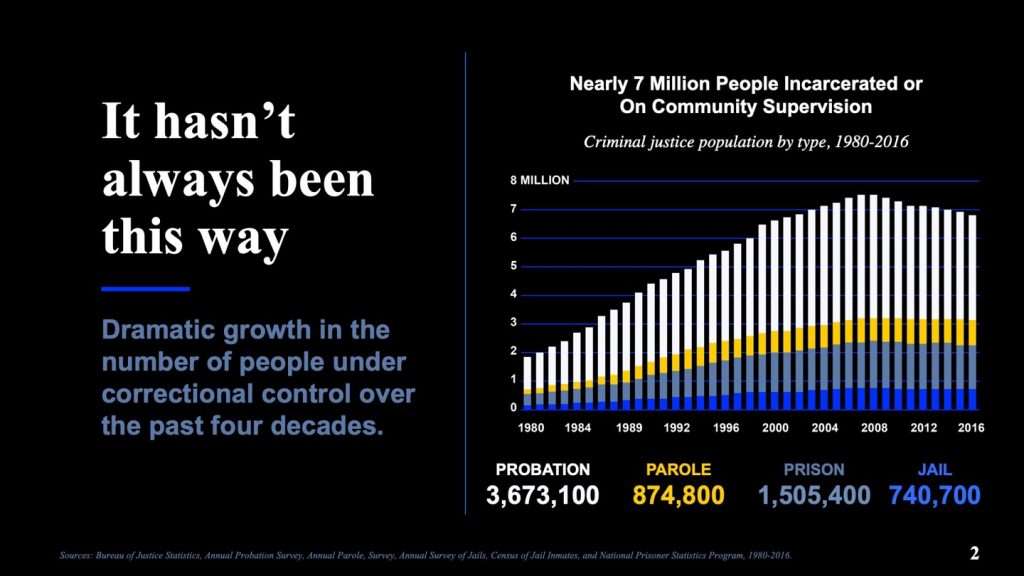 "This [growth in people incarcerated or on community supervision] is historically and internationally unprecedented. The United States has just 4% of the world's population, yet about 25% of the world's prisoners are in the U.S.," Julie James, Arnold Ventures
Locally, Harris County has the largest number of individuals on probation in the state; and Texas has the largest number in the country, according to Dr. Howard Henderson from the Center for Justice Research at Texas Southern University. "About 70,000 return to Texas from prisons, and one in five returns to the Houston area," he explains. Harris County Community Supervision and Corrections Department supervises nearly 70,000 individuals throughout the year, the third largest probation department in the United States.
2. Black Americans, particularly males, are disproportionately impacted by the criminal justice system – and at every level.
While the criminal justice system affects everyone, some are more likely to feel these impacts than others, more frequently, and to a hasher degree. People of color, particularly Black Americans, are disproportionately impacted at each stage in the criminal justice system: arrest, bail, sentencing, release, and beyond.
A common myth is that Black and Brown people are arrested at higher rates because they are more likely to commit crimes. Research has established this just isn't true, Sebastian Johnson with Arnold Ventures notes. What is happening, is that Black people are more likely to be associated with criminality, their communities are over-policed, and there is bias in the system that disadvantages Black people at every stage, including more severe punishments.
Nationally, incarceration rates have declined for Whites, Latinos, and Black Americans since 2000, however, Black adults are still incarcerated at nearly six times the rate Whites are incarcerated.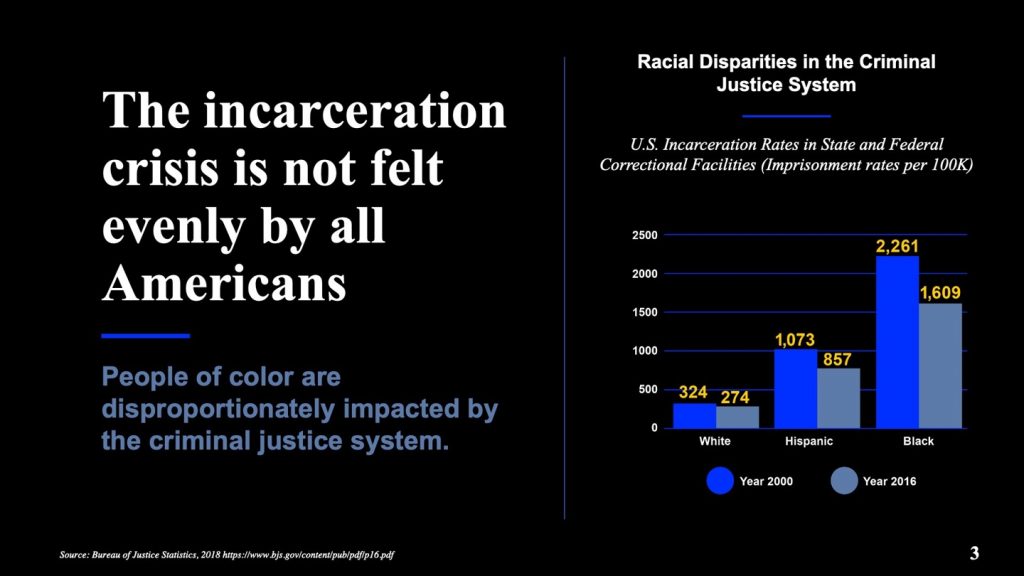 In Harris County, Blacks are overrepresented in arrests for each type of offense except Driving While Intoxicated (DWI). Despite making up 18.5% of the population, Black residents comprise between 43% and 50% of those arrested on drug, property, person, public order, serious, and violent charges, according to Dr. Henderson's analysis.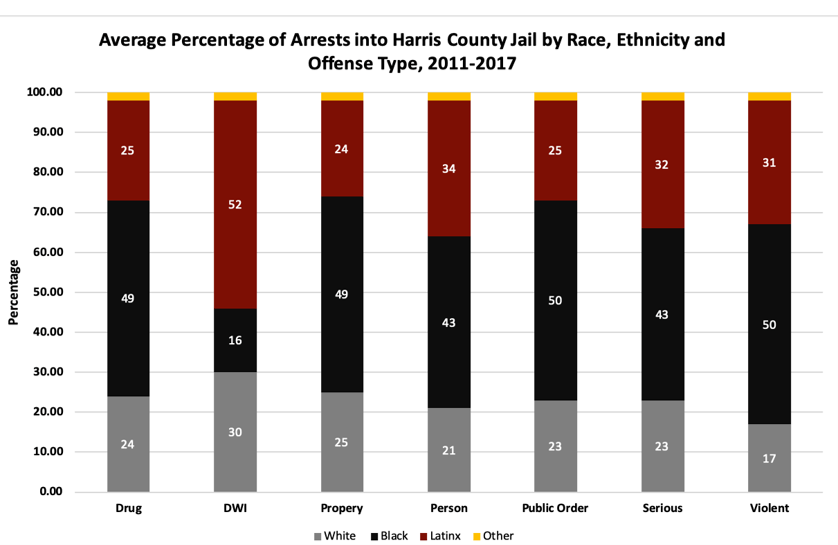 Consider the following:
Black people are four times as likely to be arrested in Harris County than Whites.
Blacks and Latinos are more likely to have a firearm discharged at them by a Houston Police officer than at their White counterparts.
Black residents represent 50% of all bookings into the Harris County Jail.
Half the people currently being held at Harris County Jail are Black.
Nearly 80% of the pretrial populations in Harris County Jail are Black or Latino.
Nationally, one in 13 adults is convicted of a felony compared to one out of three Black men.
3. Those within the criminal justice system incur major personal, professional, developmental, and financial costs that don't end after time served.
Costs for the accused, imprisoned, and released are substantial, broad-ranging, and prolonged. They include direct financial costs, opportunity costs, and "collateral consequences" which includes barriers created by the system that don't stop after incarceration.
Even limited contact with the criminal justice system can result in fines and fees, which most people can't afford. Three out of every four people in the Harris County Jail have not been convicted of any crime (held in pretrial). They are there because they could not afford to get out while they wait for trial. Unpaid debt in turn prevents people from getting a driver's license, voting, getting an occupational license, and more. One study found that on average, families paid about $13,600 in court-related costs.
The costs do not stop after one has served one's sentence and been released. The formerly incarcerated face numerous and widespread systemic barriers that exacerbate challenges to re-entry, including the denial of the right to vote even after time served, denial of housing and employment, and ineligibility for federally-backed student loans, to name a few.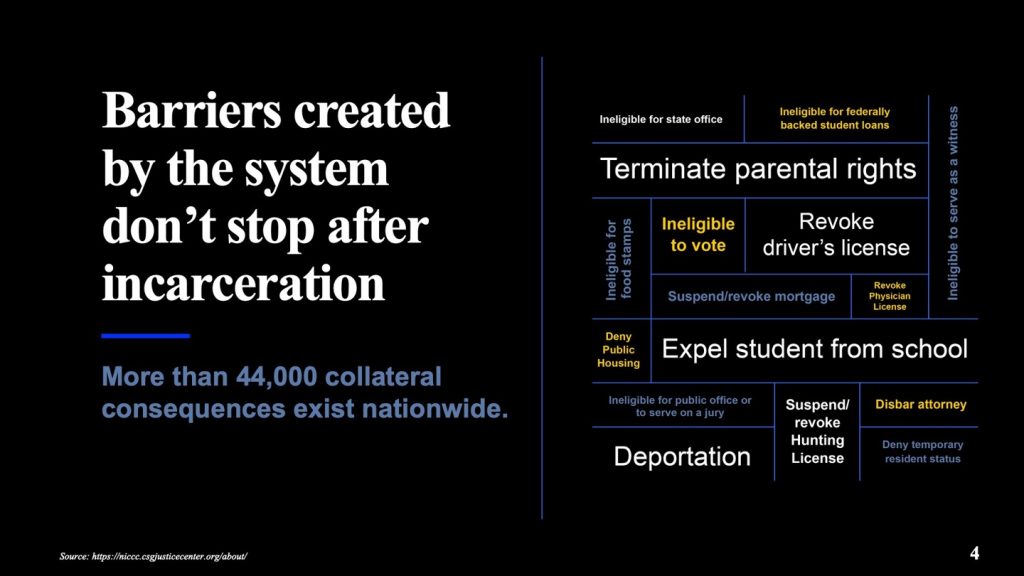 Again, these impacts are borne more by Blacks than other groups. For example, Johnson cited a study which found that white people with a criminal record are still more likely to get a job than a Black person without a criminal record.
Sybil Sybille, a Veteran and community activist focused on trauma-informed approaches in the criminal justice system, was also formerly incarcerated. She describes her experience this way: "I got out of jail in 1998 and off of parole in 2002, when I could finally vote again. I could not vote for four years even while paying into the system that imprisoned me."
In describing her attempts to get housing and employment after her release, she has paid numerous application fees for apartments only to get rejected upon learning she was formerly incarcerated. Sybille doesn't have many other housing options due to her record and faces challenges securing employment when she is required to check the box on an application that asks if she has ever been convicted of a crime.
Sybille is currently a Pure Justice Fellow and graduated from the inaugural Smart Justice Speakers Bureau class created by Anthony Graves in collaboration with the ACLU, URRC and Texas Southern University. She is also a member of the Community Working Group of the independent monitor for the ODonnell v. Harris County Consent Decree regarding misdemeanor bail practices. She continues, "It does not matter the accomplishments I've made since then…it [the impact of incarceration] does not go away. I'm still being punished. I'm still living a sentence."
"It does not matter the accomplishments I've made since then…it [the impact of incarceration] does not go away. I'm still being punished. I'm still living a sentence." – Sybil Sybille
4. It doesn't have to be this way.
There are multiple forces at work that keep this unjust system going, but the data suggest that the growth in our criminal justice system cannot be attributed to an increase in crime — national property and violent crime rates have declined by half since the peak in the early 1990s. In fact, imprisonment can advance crime "by destabilizing families and people, and restricting economic opportunity when people get out," James explains.
According to data collected from the Bureau of Justice Statistics, the crime rate fell 21% between 2007 and 2016 in 36 states where imprisonment rates also decreased, compared to a 12% decline in crime rate in 12 states that increased imprisonment rates during the same time period.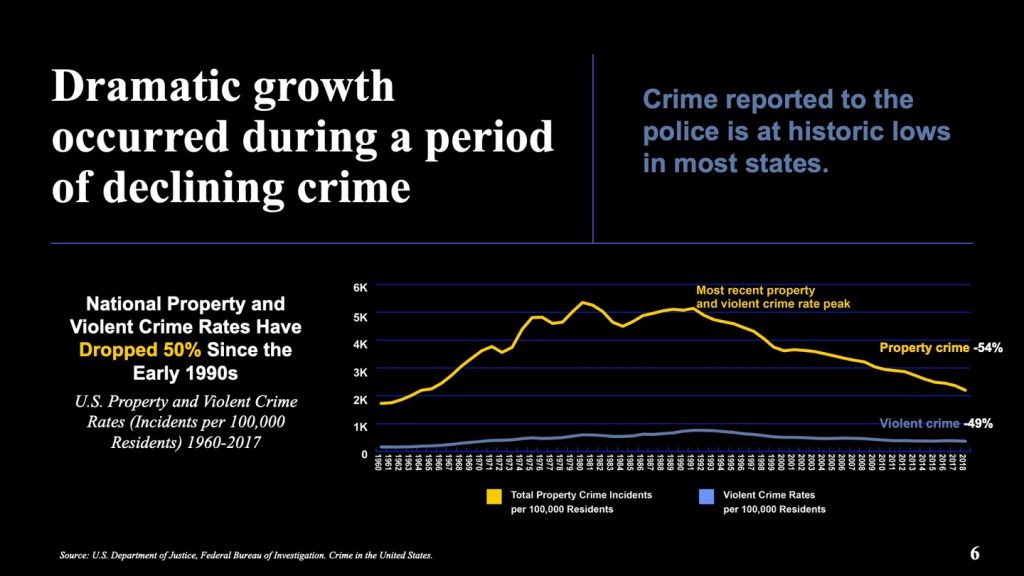 Panelists spoke to many reasons we've seen explosive growth in the criminal justice system, including bias; a "tough-on-crime" narrative, policies and practices; over-policing, particularly in Black neighborhoods; and the cyclical nature of criminal justice — even serving between one and three days in jail or prison increases one's likelihood of being arrested for another crime. The lack of resources and support the formerly incarcerated receive compounds systemic obstacles, reducing chances for success.
But, it doesn't have to be this way. "Countries that have restructured criminal justice to focus on rehabilitation have enjoyed lower recidivism rates," Arnold Venture's Johnson cites. The Center for Justice Research has found that the more resources and access ex-offenders have, the less likely they are to re-offend, which prompted them to develop a dashboard of resources and support services for the formerly incarcerated.
Sybille uses her lived experiences to advocate for bail reform and trauma-informed training for judicial personnel, and has worked to change policies and laws to advocate for those under the criminal justice system. She believes that we must prioritize rehabilitation and trauma-informed care over incarceration, noting that programs that don't address mental health challenges will never be a permanent solution. Johnson adds that so-called "diversion programs" should be evaluated so that they aren't additional pathways into jail and are community-led.
5. We can make a difference.
Arnold Ventures estimates that if we continue at the current rate, it will take 72 years to cut the prison population in half. We can do better. "We can have much lower rates of incarceration and keep our communities safe," Johnson from Arnold Ventures states.
There is broad bipartisan support for criminal justice reforms, Johnson continues. Here are some things you can do to educate yourself on this issue and advocate for positive change.
Funders can support policies and programs that prioritize rehabilitation over incarceration, particularly trauma-informed care. See a list of organizations below.
Be part of the conversation, particularly those who are most affected by the system. Dr. Henderson states "what we know about criminal justice is not coming from people who are most impacted by the system," citing that 81% of faculty in doctoral criminal justice programs are White.
Employers can "ban the box" from their employment applications, signaling to those formerly incarcerated that they will be considered holistically as a candidate instead of dismissed outright for one aspect of their history.
Get involved. Attend local city council and commissioners court meetings. Sybille emphasized, "Show up. Don't just sit on the sidelines. Be an active participant. Use your voice along with your money to make something known."
Educate yourself. Use resources like ballotready.org and The Appeal: Political Report to learn where elected officials stand on criminal justice issues. You can find recommended reading and a list of organizations working on criminal justice reforms below.
Resources Recommended by the Panelists
The Challenge of Criminal Justice by The Square One Project
Incremental Change Is A Moral Failure by Mychal Denzel Smith, The Atlantic
We need to talk about an injustice, Ted Talk by Bryan Stevenson
The Center for Justice Research at Texas Southern University
Arnold Ventures | Criminal Justice
Understanding Houston | Criminal Justice
Additional Resources
Local Organizations:
Regional Organizations: