Houston ranks among the top 50 cities with the highest obesity rates in the U.S., with 34% of Houston children now struggling with obesity. At the same time, Feeding America reports that Harris County has the second-highest number of food insecure individuals across all US counties, with 869,000 individuals not knowing when or where their next meal is coming from.
The single largest predictor of an individual's health is the community in which they live. People who live in low-income areas with low access to fresh food struggle to secure nutritious options and are more likely to suffer from disproportionately high rates of obesity and diet-related diseases. Today, children in low-income communities are more likely to confront an obesity epidemic — one that afflicts 13.9% of low-income children in the nation, and many lack access to safe, outdoor spaces to congregate and play.
How COVID-19 exacerbates food insecurity in Houston
COVID-19 has exacerbated existing food insecurity, disproportionately affecting low- and moderate-income households, while also introducing food insecurity to individuals who had never before experienced barriers to food access.
Food insecurity in the region peaked in November 2020 with nearly 30% of Houston-area households with children reported experiencing food insecurity. Though that rate has fallen to 22% as of March 1, 2021, some communities still feel the burden at disproportionately high rates. One-third of Black households with children and 25% of Hispanic households with children report continued food insecurity, compared to 11% of white households with children. Changing health landscapes and heightened food insecurity have demonstrated a surging need for inclusive, community-driven food interventions.
Understanding the challenges facing community gardens in Houston
Urban Harvest leads holistic interventions that combine neighborhood revitalization, community development, healthy food production, preservation of greenspace, and ecological stewardship that contributes to biodiversity. Community gardens provide affordable and accessible healthy foods in low-income neighborhoods with limited access to fresh foods.
Since 2018, Urban Harvest has transitioned from building gardens to sustaining gardens in response to the needs of the gardens we serve. We set out to identify how we can better support community gardens to be more sustainable. Working with the 140 affiliate gardens in our network, we discovered five key elements that well-established, successful gardens share: they meet monthly as a group; they develop a clear leadership team that makes decisions for the garden; they inform gardeners of what goes on day to day; they build a large base of active gardens; and, they offer consistent events and programming.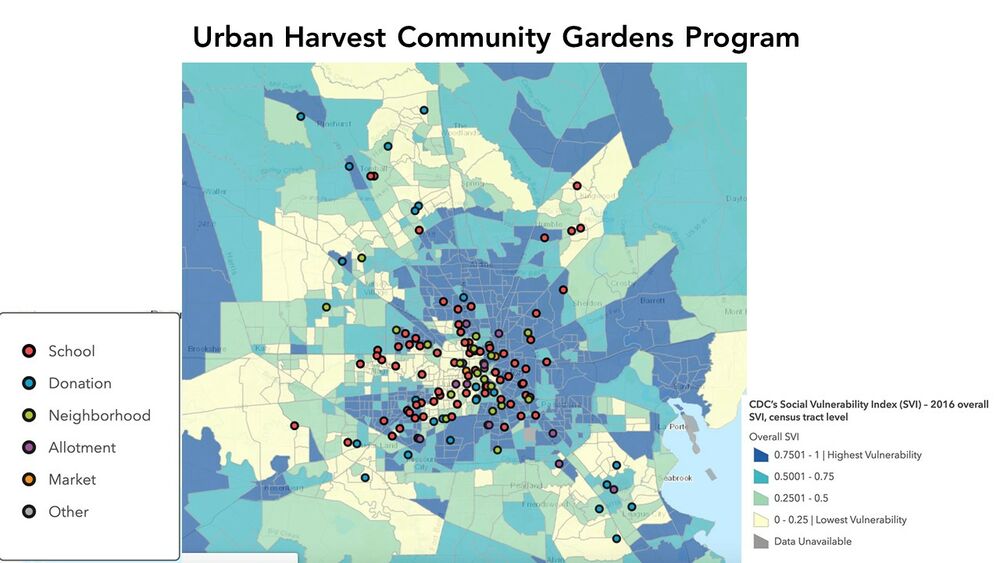 However, our deep-dive also revealed disparities within our affiliate garden network. We learned that gardens in under-resourced (socially vulnerable and/or low-income, low-access) communities experience heightened challenges to becoming sustainable. Importantly, gardens in under-resourced communities make-up a significant part of the network: 54%, or 73 distinct sites.
These disparities have been heightened by COVID-19 and the recent winter storm. Key findings from our recent COVID-19 needs assessment revealed that due to the pandemic, under-resourced gardens have too few gardeners, and rate their volunteer needs a 5.8 on a scale of 1 (lowest need) to 6 (highest need). Even higher-resourced gardens rated their volunteer needs 4.5. Other top needs among under-resourced gardeners include compost, fertilizer and mulch. And, finally, almost 30% of surveyed gardens reported that their gardens have become less well-established.
Community gardens help under-resourced Houston-area neighborhoods
Community gardens are assets for any neighborhood, but represent unique opportunities in otherwise under-resourced communities in particular. Successful gardens can build community power through placemaking of safe, outdoor spaces; creating opportunities to connect with neighbors and community members from different backgrounds; preserving greenspace; and offering affordable, healthy food. In 2020 alone, our community gardens resulted in 225,000 pounds of produce (resulting in about 190,000 meals), of which 136,000 pounds were donated, and our gardens served more than 260 customers through Mobile Markets. But, as we have seen, community gardens depend on the community to survive and thrive, particularly in times of disaster. The results combat food insecurity, offer opportunities for physical activity, and promote resident health.