A data-driven look at what 2021 meant for Houston's three-county area
No year in recent memory has simultaneously had so much and so little to live up to as 2021. Coming on the heels of a tumultuous 2020 mired in an ongoing pandemic and a contentious political landscape, the arrival of 2021 represented hope and the chance to return to normalcy — or at least something like it. And while 2021 certainly gave us more to celebrate than its predecessor, it also came with its share of challenges and surprises.

From big freeze blackouts to vaccine rollouts, an Astros World Series to an Astroworld tragedy, the greater Houston area was at the center of some of 2021's most talked about events. And with so much clogging our newsfeeds on any given day of 2021, it wasn't always easy to keep up with the finer details, especially with one event often overtaking another before the dust could even settle.
That's why we're closing out the year by taking a look at the numbers and unpacking the things that defined life in Greater Houston during 2021.
Winter Storm Uri
Greater Houston may be no stranger to natural disasters, but freezing weather has not historically been our region's burden to bear. Then came Winter Storm Uri. Uri blew into Texas barely a month and a half into the new year, bringing with it temperatures as low as 13℉ in Houston and leaving about 1.4 million Houstonians waking up to freezing cold temperatures and no electricity.
Hours turned to days as people desperately waited for their power to come back on. The surprise of an extended power outage left many without food, water and other essential supplies needed to endure such conditions –– including highly vulnerable communities, who are less likely to have the emergency supplies or funds on-hand to endure unexpected emergencies.
Here's how Winter Storm Uri impacted Greater Houston/Texas, by the numbers: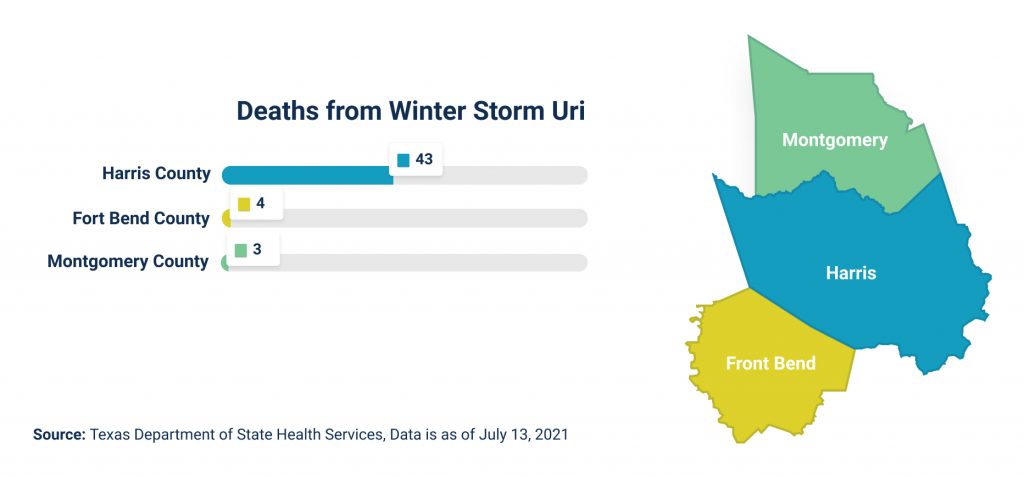 The COVID-19 pandemic and vaccine rollout
Despite what many had hoped, the COVID-19 pandemic continued to shape Houston life in 2021, impacting our region, its residents and its healthcare systems. However, thanks in significant part to the effectiveness of available COVID-19 vaccines, residents and businesses have found new ways to carry on in the face of the ongoing pandemic.
As one of the largest and most diverse major metropolitan areas in the country, the greater Houston region played a significant role in setting the tone for vaccine rollouts across the nation. Despite some early challenges regarding inequity in access, vaccines have had a mostly successful rollout throughout our region, albeit at inconsistent rates.
Even after all Texas adults became eligible to receive the COVID-19 vaccine on March 29, 2021, hesitancy and accessibility remained barriers for many. According to survey data from the U.S. Census Bureau, Houston-area residents have expressed a variety of reasons for not getting vaccinated.
Of those surveyed, 51% of those not yet vaccinated cited concern about side effects as the driving factor behind their hesitancy. While the vaccine has proven to be safe over the past 12 months, trust issues remain a concern. A third of those surveyed said they did not trust the COVID-19 vaccine, and possibly more concerning, more than a quarter of respondents cited distrust of the government as a driving force in their decision not to get vaccinated. As the vaccine is arguably our most critical tool in our battle against the deadly impact of COVID-19, consistent communication about the safety and effectiveness of the vaccine remains vital.
Amidst a protracted vaccine rollout that was even more challenging overseas, two COVID-19 variants — Delta and Omicron — have emerged, presenting new challenges for public health officials and medical professionals. While the impact Omicron could have in our region remains to be seen, Delta represented significant challenges at its peak, overwhelming area hospitals and medical facilities – with COVID-19 patients occupying 21.3% of area hospital beds the week of August 22, 2021, a significant increase from just 5.9% the month before, and just 2.3% the month before that.
85% of COVID-19 deaths in Texas were among the unvaccinated.
The Summer surge also contributed to a sobering death toll. As of December 8, 2020, 3,890 people had died of COVID-19 throughout the three-county region. A year later, that number tripled to 11,721. According to a study conducted by the Texas Department of Health and Human Services, 85% of people ages 12+ who died of complications from COVID-19 between January 15 and October 1, 2021 were not vaccinated.
Houston's population keeps growing and changing
The results of the 2020 census were released this year and confirmed what many residents could already feel: Our region — and our state — has grown significantly over the past decade. In fact, population growth in Greater Houston accounted for a quarter of the total population growth in the state of Texas.
Between 2010 and 2020, the three-county area population grew by 1,040,787 people, a 20% increase. While Harris County added the most residents total, Fort Bend County experienced the highest growth rate at 40.6% over the last decade.
Non-white people made up 95% of all of Texas' growth in the past 10 years –– and Hispanics alone accounted for half of that growth.
This population growth was significant enough to warrant the creation of a new congressional district in the Houston area.
Further reading: Take a deeper look at what the 2020 Census tells us about Greater Houston
Houston's housing market in 2021
Growing populations and pandemic-impacted markets have had a significant impact on both the availability and affordability of housing in Greater Houston. Though the greater Houston region has historically had a reputation for affordability, that trend has been gradually reversing for years, reaching a boiling point alongside similar markets nationwide.
The median sale price for a single-family home in the Houston area grew by 16% — from $270,000 in November 2020 to $314,000 in November 2021, according to Greater Houston Partnership analysis of data from Houston Association of Realtors. And total sales in November 2021 were up 5.6% from the same time last year.
Home sales increased only for homes valued $250,000 and higher.
Source: Greater Houston Partnership analysis of data from Houston Association of Realtors, November 2020 – November 2021
Even as home prices increased, the demand and competition for buying them remained strong. In November 2020, a given piece of property remained on the market for 46 days on average. A year later, that number was down to 35.
Life in Houston, by the numbers
Amidst a year defined by uncertainty, vaccines and a cautious return to normalcy allowed for some memorable moments to return to our region — many great, one tragic.
The Astros in the World Series
A highlight for many Houstonians was no doubt the return of the Houston Astros to the MLB World Series for the third time in five years. Though the Astros ultimately lost the six-game series, the greater Houston region won in a number of other ways. We'll let the baseball fanatics focus on the game stats, meanwhile, we'd like to draw your attention to the economic impact the Astros' championship season had on our communities.
Estimated economic impact: $26 million (Source: Houston First Corporation)
Downtown hotel occupancy rates: 90%+, up from just 11% a year before (Source: Houston First Corporation)
Fans in seats: 128,526 (Source: Baseball Almanac)
The Astroworld Tragedy
When Grammy Award-winning Houston-native Travis Scott announced the return of his popular Astroworld music festival, fans and music-lovers were thrilled at the chance to gather and enjoy live music again after a mostly concert-free 2020. Unfortunately, that joy was short-lived.

While investigations are ongoing amid an ever-growing slew of lawsuits against Scott, promoter Live Nation and others, what we do know paints a tragic picture of loss that our region will mourn and reflect on for years to come.
Official attendance: 50,000
Deaths: 10
Injuries: 300+
Hospitalizations: 25
Source: Houston Chronicle
Looking ahead to the new year
2021 was filled with ups and downs for our region, and If the last two years serve as any indication, there's only so much anyone can safely predict about 2022. But whatever trends impact our region in the coming year, Understanding Houston is here to add data-driven insights and context to the issues that matter in our communities.
We invite you to join us for the year ahead — follow us on social media, subscribe to or share our newsletter and find out how you can get involved for the year ahead.