Reflecting on two years of community connections and informed action.
When we began work on Understanding Houston a few years ago, we set out to create a relevant, accessible platform that would connect community leaders and changemakers with the information they need to take targeted, informed action where our region needs it most. This November, Understanding Houston is celebrating its two-year anniversary of our launch in 2019. Since then, Understanding Houston — an initiative of the Greater Houston Community Foundation — has grown significantly, and we would like to thank everyone who has supported our mission to build a more vibrant Houston with opportunity for all.
Here are just a few of the things that made year two such a success.
The addition of our ninth topic: Disaster
Between hurricanes, floods and even freezes, residents in Houston's three-county region are no stranger to weather-related disasters. Layer on the COVID-19 pandemic and its many devastating impacts, and the need for a source to find data on regional disasters was greater than ever.
At the beginning of 2021, Understanding Houston added a Disaster topic page along with four subtopic pages to share key findings and provide insights into how disasters affect residents differently. Our hope is that this information helps residents understand the varied risks of disasters, who is the most vulnerable to disaster impacts and in what ways, and shows how uneven disaster response can widen pre-existing inequities. In order for our region to bounce back after a disaster, everyone in our community — especially the most vulnerable — must receive the help they need to not only recover but also be made stronger to weather the next disaster.
The Disaster topic page allows us to take an in-depth look into these areas of disaster and identify opportunities and obstacles to help our residents prepare for and withstand the various impacts of disasters. But we have also started catalyzing collaborative action in the area of disaster recovery and resiliency in more proactive and intentional ways. Following the release of Understanding Hoston's new disaster data, the Greater Houston Community Foundation and United Way of Greater Houston announced their Disaster Resilience partnership to streamline disaster funding, combine resources, and provide a streamlined response for the entire region whether recovering from a pandemic or a winter storm.
Understanding Houston helped with reliable data to provide a basis for discussion on problems facing Greater Houston. Using this information with others allows us to determine root causes and first steps to developing an action plan to address a basic issue.
– Shelia Thorne, GardenKids of Kemah
Understanding Houston's community continues to grow
Understanding Houston's community has grown substantially in the last year. More people use and engage with the site, subscribe to our newsletter, follow us on social media, and have joined us at a data briefing, data workshop, or a visioning session as we seek to continually evolve and improve.
New audiences through data briefings
Despite the need for social distancing, Understanding Houston was able to continue to engage the community in our data through programming. In the summer, we held three Data Dives + Workshops in partnership with United Way of Greater Houston (UWGH) where nearly 300 members of Houston's nonprofit community attended. In addition to reviewing the new data around disasters, we sought feedback from local nonprofit organizations on what they want to see as we build disaster-ready philanthropic partnerships to improve our collective disaster preparedness and response. We asked how the data would be useful and how it could be more helpful to regional leaders who activate during disasters. Read our findings here.
More recently, this fall we held an intensive Visioning Lab in which we engaged 50 users in a conversation about what they liked best about the Understanding Houston website and how they would improve it. We will hold another Visioning Lab in January and publish our findings the following month. Stay tuned as we share where we are headed next.
New users and increased awareness
The Understanding Houston website allows visitors to access impartial data through high-level topic pages, deeper subtopic pages, informative articles, downloadable reports and interactive charts. Our website also allows visitors to vote on the type of content that we should focus on moving forward so that we can reflect our residents' interests and concerns.
Here's how the community has been utilizing Understanding Houston website in year two: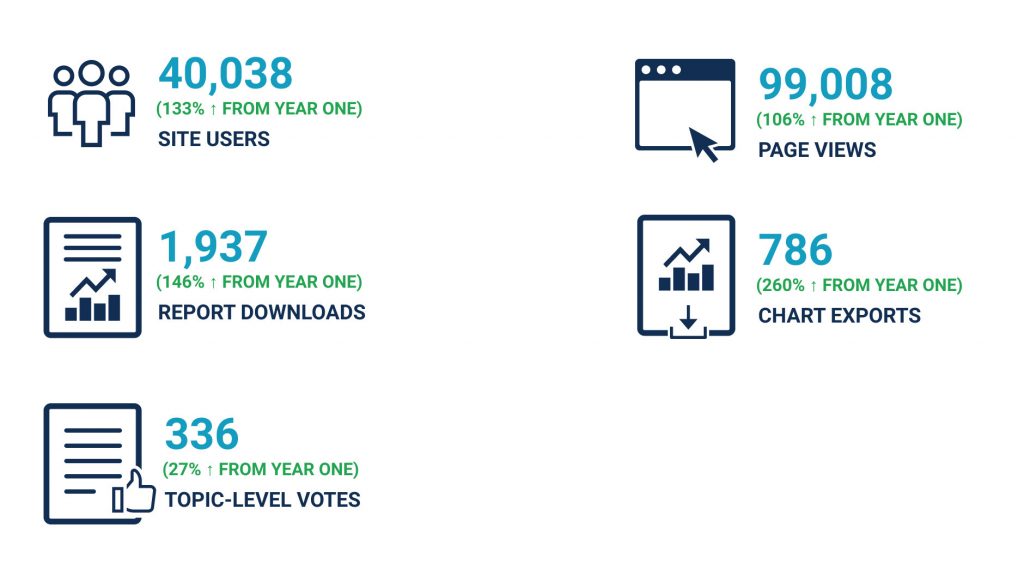 40,038 site users: More than 40,000 people have come to Understanding Houston through search engines, social media, or direct referrals in the past year.
99,008 page views: These users have explored more than 99,000 collective pages of Understanding Houston content.
1,937 report downloads: Nearly 2,000 reports have been downloaded by users for later use and reference.
786 chart exports: Close to 800 charts have been exported by users to include in presentations, share on social media or feature on their website.
336 topic votes: Users have voted for the topics that matter most to them 336 times in the past year.
Understanding Houston utilizes multiple platforms to reach different audiences, including social media and a monthly newsletter. Across all social media platforms, Understanding Houston gained more than 2,000 followers in our second year. This means that more individuals are engaging with Understanding Houston's data and becoming more informed and aware of issues and current events that are taking place in our region.
Here's how we have continued to grow and engage our Houston audience in our second year.
2,106 total newsletter subscribers (23.8% ↑ from last year)
5,514 total social media followers (61% ↑ from last year)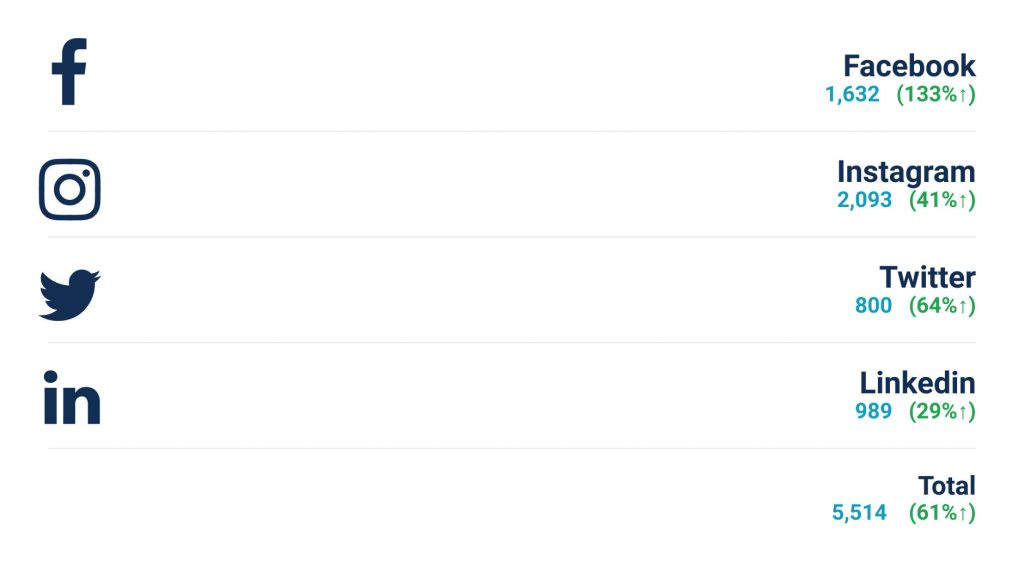 Understanding Houston has provided information about the importance of diversity, equity and inclusion in discussions around the region's population. This bolstered our organization's response by hiring a DEI consultant to assist in a two-year initiative to improve processes where needed and better serve our clients. We are finding more funders' attention to this subject important in grant making.
– Jenetha Jones, Child Advocates of Fort Bend
Amplifying community voices
At its core, Understanding Houston aims to inspire and inform and action. Not only by providing robust data over time on key quality of life indicators but also by illuminating and contextualizing that data into insights through research articles and amplifying Community Voices with regional leader profiles and personal stories. In the past year, we have collaborated with a number of community leaders and organizations including the Houston Education Research Consortium (HERC), Arts Connect Houston, Urban Harvest, FuelEd, and many more!
These collaborations resulted in 21 total in-depth articles, including six pieces authored by leaders and changemakers from Houston's nonprofit community. Through data and testimonies, these pieces helped us paint a more detailed picture of issues affecting our communities.
How Understanding Houston is making an impact: Survey responses
In October 2021, Understanding Houston sent out a Feedback & Impact Survey –– an opportunity for those in Houston's three county region to share how Understanding Houston can improve its website's tools and programming in the upcoming update.
The survey was conducted from August 26 to October 25 and garnered 170 responses. When asked to rate Understanding Houston's usefulness for learning about the quality of life in our region, 96% of respondents rated our website as very or mostly useful, indicating respondents are very satisfied, and more than four out of five respondents took some action based on learning something new through the website or data briefing, and 99% said they were extremely likely to refer a friend or colleague to the site.
Through the responses, it became clear that most participants value a user-friendly website with relevant data and clear content –– most agreed that the Understanding Houston website caters to these preferences. As we move into year three with plans for a site-wide refresh, these responses will help us make our website a more inviting and useful tool for all who need it.
As a concerned Houstonian, the resources available through this initiative have a direct impact on where and how I can direct my resources to have the most impact in my own city.
– GHCF Donor
How we're planning for the future of Understanding Houston
Evolution is core to the Understanding Houston initiative. So even though the first two years of Understanding Houston have been successful, our work is not done yet. Using the responses from the Feedback & Impact Survey, we are working to improve our user experience and better our website's resources by implementing a sitewide data update.
As we update hundreds of indicators on our website, we hope these updates better reflect and serve our community's needs so that Understanding Houston can be as useful as possible. The first phase of updates will be launching soon, and we cannot wait for you to see what we have in store!
Thank you, Houston!
We would not be able to celebrate our second anniversary without thanking everyone who made this success possible! We owe many thanks to those who have helped to make Understanding Houston the compelling resource it is today. To all the donors, partners, guest bloggers, researchers, analysts, developers, designers, writers and followers who keep us moving forward, we are endlessly grateful.
We would like to express our gratitude to our founding partners and supporters, our advisory committee, our strategic research partners at Rice University's Kinder Institute for Urban Research, and our communications and content partners at Baal + Spots and Deutser for their continued support of Understanding Houston and efforts to grow our community.
Thanks to you, our second year was successful, and we plan to continue that success in years to come. If you'd like to wish us a Happy Second Anniversary on our social media accounts, give us a follow on Instagram, Twitter, Facebook and LinkedIn!
As we look toward our third year in 2022 and beyond, no one knows what Mother Nature, COVID-19, or even life, has planned for our region, but you can count on Understanding Houston to help you find the facts, deliver insights, and amplify community voices.