The first PRIDE was a riot. No glitter, parades or corporations eager to release their brand-new shiny rainbow collections. The Stonewall uprising was ignited by constant police harassment and discrimination toward LGBTQ folx at the time. June 1969 was a turning point to state that we are here, we are queer, and we are not going to stop fighting for our rights.
In the wise words of Marsha P. Johnson, "No pride for some of us, without liberation for all of us." Ms. Johnson, a Black transgender woman, and Sylvia Rivera, a Latina trans woman, were among the activists that paved the way back in the late '70s. Far from seeking recognition from a community that still struggles to embrace and protect trans folx, they used their voice to fight for equity and opened the first shelter to host LGBT youth.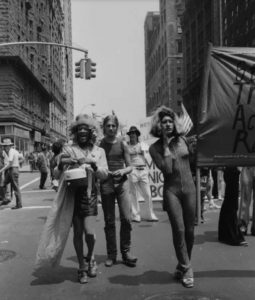 Sadly, protecting trans youth is still a pressing issue more than 50 years after Stonewall. Learning LGBTQ history not only helped me understand our current struggles, but also continues inspiring me on a daily basis. I'm proud to honor Marsha and Sylvia's legacy with my work as an openly queer Brown immigrant scientist.
Fighting for equity and liberation has always been one of my passions. Pride and visibility is not something you are born with. For some people, like me, the path to self-love and acceptance can be filled with fear and shame. I was born and raised in Buenos Aires, Argentina and attended medical school with a clear goal in mind – to make an impact on a community level by combining medicine and education, fostering love for science and public health and, hopefully, paving the way for other queer professionals to be themselves.
After I finished medical school, I was offered the chance to move to Houston to work on HIV research at UTHealth. In the blink of an eye, I had packed my life into two bags and arrived in Texas. Before my trip, I didn't know what to expect from Houston other than cowboy hats, cacti and NASA. I was pleasantly surprised to find a diverse city that feels like a small town and a queer community that has embraced me as chosen family. The more involved I got in HIV prevention and treatment, the more I understood there was a lot of work to be done in the South and particularly in my newly adopted city.
Understanding HIV prevalence in Houston
June 5, 2021 marks 40 years since the first five cases describing what later became known as Acquired Immune Deficiency Syndrome (AIDS) and what is now THIV Stage III in the Centers for Disease Control and Prevention's (CDC) Morbidity and Mortality Weekly Report (MMWR). As of June 2021, 32 million people have died from HIV worldwide – 700,000 in the United States – since the start of the global epidemic, and 38 million people are currently living with HIV. While we have come a long way and made amazing progress since those first diagnoses, challenges still remain in Greater Houston and beyond.
According to the CDC, of the 37,968 new HIV diagnoses in the United States in 2018, half are in the South. Additionally, eight of the 10 states with the highest rates of new HIV diagnoses are in the South as are nine of the 10 metropolitan areas with the highest rates. Poverty, unemployment and lack of access to medical care are factors that drive the epidemic. Nine out of the 16 states in the South have not expanded Medicaid. Stigma and cultural factors continue playing a key role when it comes to status disclosure, support and access to HIV services. Unfortunately, Houston is no exception to the burden southern urban cities carry. In 2018, there were 27,057 people living with HIV in Houston, and 1,243 Houstonians were newly diagnosed with HIV. Over the past decade, this number has remained steady.
Between 2010 and 2016, a steady increase in HIV prevalence was observed throughout Greater Houston's three largest counties, with the three-county area registering HIV diagnoses at 1.5 times the national rate. HIV prevalence is highest in Harris County, with rates 2-3 times higher than those in Fort Bend and Montgomery counties.
It is important to point out the disproportionate HIV incidence rate among Black and Latinx populations. More recent 2018 data show that the rate of Black males in Houston living with an HIV diagnosis is 4.6 times that of white males. The rate of Black females living with an HIV diagnosis is 18.4 times that of white females.
We need to do far better to bring awareness, education and empowerment to our most affected communities. Bringing community voices to the table is crucial to work together towards the end of the epidemic.
Hope in the form of a daily pill
Though HIV remains prevalent, new effective safe treatments have reduced pill burden to just one small pill a day, and an injectable antiretroviral combination was approved last year. HIV is not a death sentence.
Moreover, when it comes to HIV prevention, Pre-Exposure Prophylaxis (PrEP) was a game changer to stop HIV transmission. Studies have shown that when taken once daily as directed, PrEP can reduce the risk of HIV transmission from sex by 99%. PrEP is readily available at no cost for people with and without insurance. Raising awareness and uptake among Houston's at-risk populations is pivotal to end the HIV epidemic.

As PrEP efficacy decreases if not taken daily, novel interventions are on the pipeline to tackle the issue of medication adherence. I had the honor to implement a groundbreaking study in Houston which compared the efficacy of a long-acting injectable agent given every other month to the current daily oral medication for PrEP. The study enrolled 4,570 cisgender men who have sex with men (MSM) and transgender women (TGW) who have sex with men at 43 sites in Argentina, Brazil, Peru, United States, South Africa, Thailand and Vietnam.
The results of the trial were very promising — the regimen containing long-acting cabotegravir was found to be statistically superior to daily oral medication for PrEP. This medication will hopefully be approved soon and will help those people who find it challenging to take a pill every day. New medications in the works also include subcutaneous injections given every six months, a monthly pill, a transdermal implant and vaginal rings.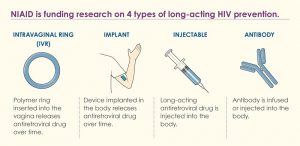 It is also important to mention Treatment as Prevention (TasP). One of the most important breakthroughs in the HIV field were the results of various studies that determined that someone who is living with HIV while on medication for more than six months and virally suppressed cannot pass on the virus to others through sex. This concept is known as U=U (Undetectable=Untransmittable). Not only is this a huge step towards establishing a link between HIV treatment and HIV prevention, but also a strong public health message that aims to fight the stigma surrounding HIV.
Proud to work toward a better future
Today, HIV is a manageable chronic disease. People living with HIV can live long, healthy lives thanks to improved antiretroviral treatment. Our HIV prevention toolkit is constantly expanding, fueled by research and community working together. Effective tools like PrEP can prevent HIV transmission when taken as directed. HIV treatment is prevention because U=U (Undetectable=Untransmittable). New, exciting breakthrough prevention and treatment medicines and strategies are in the pipeline. An HIV vaccine no longer sounds fictitious. We are living in an exciting time as we can be the generation that will end the HIV epidemic.

Although much has been accomplished since the first brick flew at Stonewall, we will not be truly victorious until we properly address the underlying systemic health disparities that leave some people behind. We need to do our work to tackle the roots of racism, poverty, stigma, homophobia, transphobia, homelessness and health inequity. We need to continue involving our communities as there is nothing for them without them. We need to do better, be better. At the end of day, repeat Marsha's words as a mantra, "No pride for some of us, without liberation for all of us."