A data-driven look into how the pandemic has affected students in Greater Houston
Since March 2020, the world has been coping with the devastating impacts of the COVID-19 pandemic. For many students, the classroom suddenly became the kitchen table. Their teachers were now little squares on a screen. The learning experience that most students were accustomed to had been flipped upside down.
As the 2021-22 school year approaches and students return to the classroom amidst the fourth wave of COVID-19 infections, the pandemic and its effects are still ongoing. We're analyzing available data on how COVID-19 has affected Houston-area students to shine a light on the challenges students may continue to face in yet another pandemic-affected school year.
The struggle to adapt to online learning
The COVID-19 pandemic has drastically changed the way students experience their education. As Houston-area school districts and campuses transitioned to 100% online learning at the start of the pandemic, the need for stable internet and consistent access to technological devices like laptops and tablets became a necessity.
However, according to research from the Houston Education Research Consortium and RICE University, 20% of families reported that their child(ren) did not have a personal device such as a computer, laptop or tablet to do their schoolwork. The research also suggests that income played a significant role in setting students up for success in the form of access to the required resources to make online learning possible.
Almost half of the participating households earning less than $20,000 per year reported not having a device or internet for their child(ren) to complete schoolwork, compared to only 4% of families earning over $100,000 per year.
1 in 5 families
in the Houston area lacked internet access or a digital device for their child(ren) to use to do their schoolwork during the early months of the pandemic.
Source: Gulf Coast Coronavirus (COVID-19) Community Impact Survey
Daniel Potter, Associate Director of the Houston Education Research Consortium, notes how research suggests that the pandemic has pushed a larger proportion of Black and Hispanic students online, which can negatively impact learning. According to his organization's findings, 70% of Black students and 60% of Hispanic students in the Greater Houston area opted into virtual learning in the 2020-21 school year compared to white students (40%). These are the same students who are more likely to attend high-poverty schools that have fewer resources –– including necessary technology –– to engage all students successfully.
Parents show anxiety regarding students' readiness for school
In the Gulf Coast Coronavirus (COVID-19) Community Impact Survey, a majority of surveyed families reported feeling worried that students would not be ready for the 2020-21 school year. Those without access to WiFi worried more –– 67% of families without access to WiFi/Internet and a device for schoolwork expressed concern that their child would not be ready for the upcoming school year, compared to 49% of families with access to WiFi and devices for schoolwork.
Families that reported having access to WiFi and devices for schoolwork were not as worried about their children being prepared for the school year because they had the necessary resources. In an attempt to close this digital divide, Houston school districts distributed print copies of educational materials to families with limited access to technology to prevent students from falling behind. Additionally, WiFi hotspots purchased by the districts made online learning more accessible to all.
The impacts on student performance
From the cancellation of state standardized testing to the mandatory shift to remote instruction in March 2020, COVID-19 had a huge disruption on students. As schools transitioned into a "hybrid" learning model of virtual and in-person instruction in 2020-21, most campuses and students adapted to the new normal. However, as we begin the second full academic year in the era of COVID-19, the impacts on student learning and performance are beginning to emerge, though there is still much we do not know.
According to the Kinder Institute for Urban Research at Rice University, in the 2020-21 school year, several districts reported a significant increase in the percentage of students failing at least one course. Their findings also show that failure rates were typically highest for students attending school in the online/virtual setting.
One measurable assessment, the eighth-grade math proficiency exam, is important in assessing student readiness for high school. The results from the Algebra I End-of-Course (EOC) State of Texas Assessments of Academic Readiness (STAAR) given to students in Spring 2021 show a significant decline in performance compared to 2019. Performance was on an upward trend prior to this decline.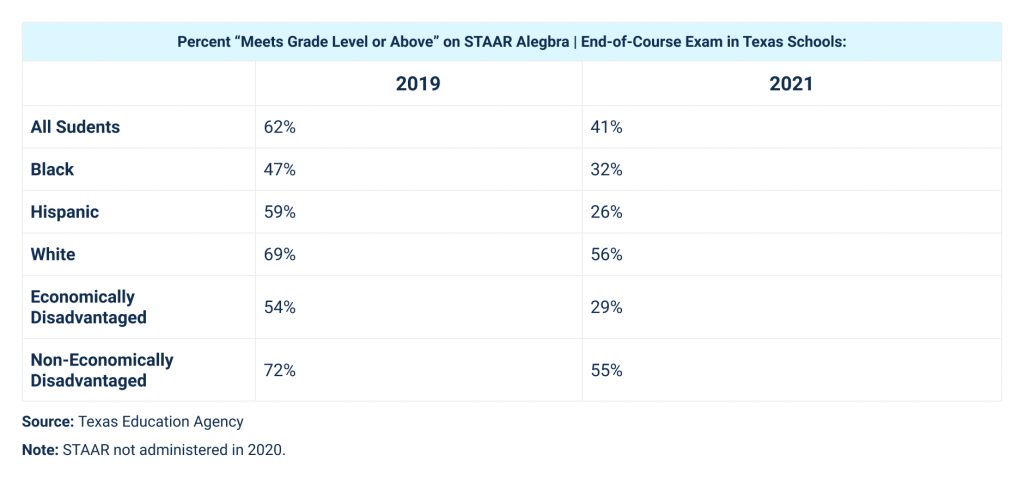 In Spring 2021, 41% of students who took the Algebra I EOC exam met the state standard, compared to 62% in 2019. The proportion of students who met the standard fell 33 percentage points for Hispanic students, 25 points for low-income students, and 21 points for all students combined.
The effects on higher education plans
While the total impact COVID-19 has had on student attrition and graduation rates in the Houston area is still unclear, preliminary research suggests that the pandemic has contributed to students changing their post-secondary education plans. Data from the National Student Clearinghouse Research Center supports this survey data. The number of students enrolling in undergraduate higher education in Spring 2021 fell by 727,000 students nationally, or 4.9%, from Spring 2020. For comparison, undergraduate enrollment fell 0.5% between Spring 2019 and Spring 2020. More than 65% of the total undergraduate enrollment decline occurred among community colleges, institutions that are more likely to serve low-income students and students of color. Texas is not immune either.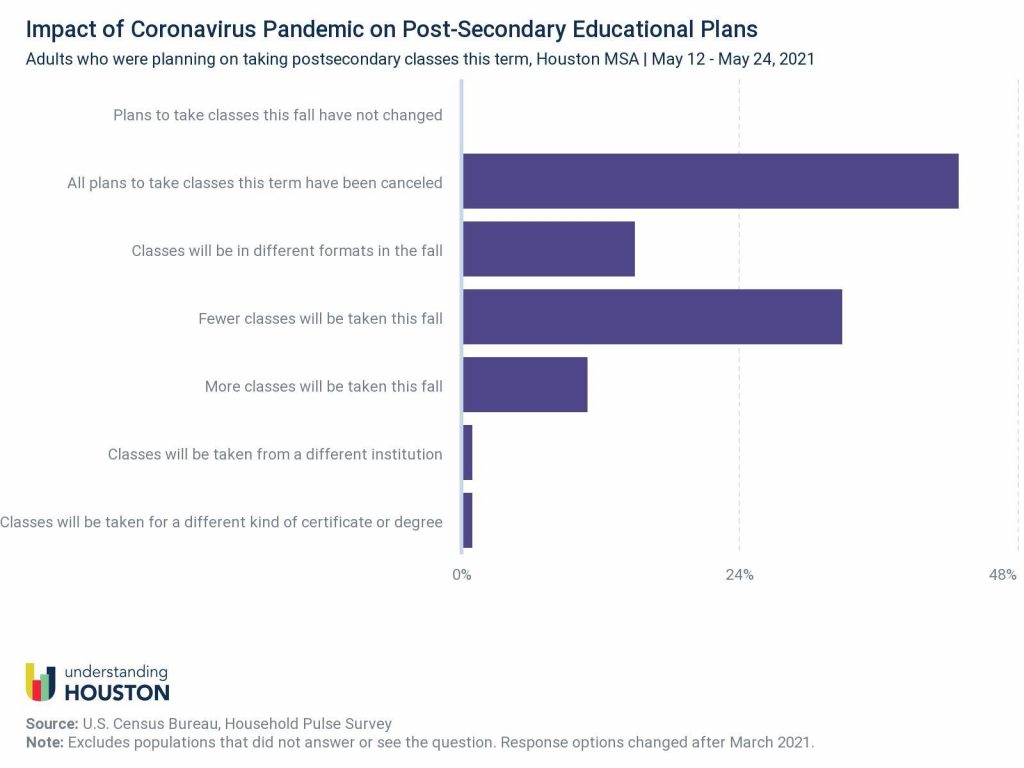 According to the U.S. Census Bureau, 43% of Houston adults have canceled their higher education plans with 33% of students reporting they will be taking fewer classes in the fall of 2021.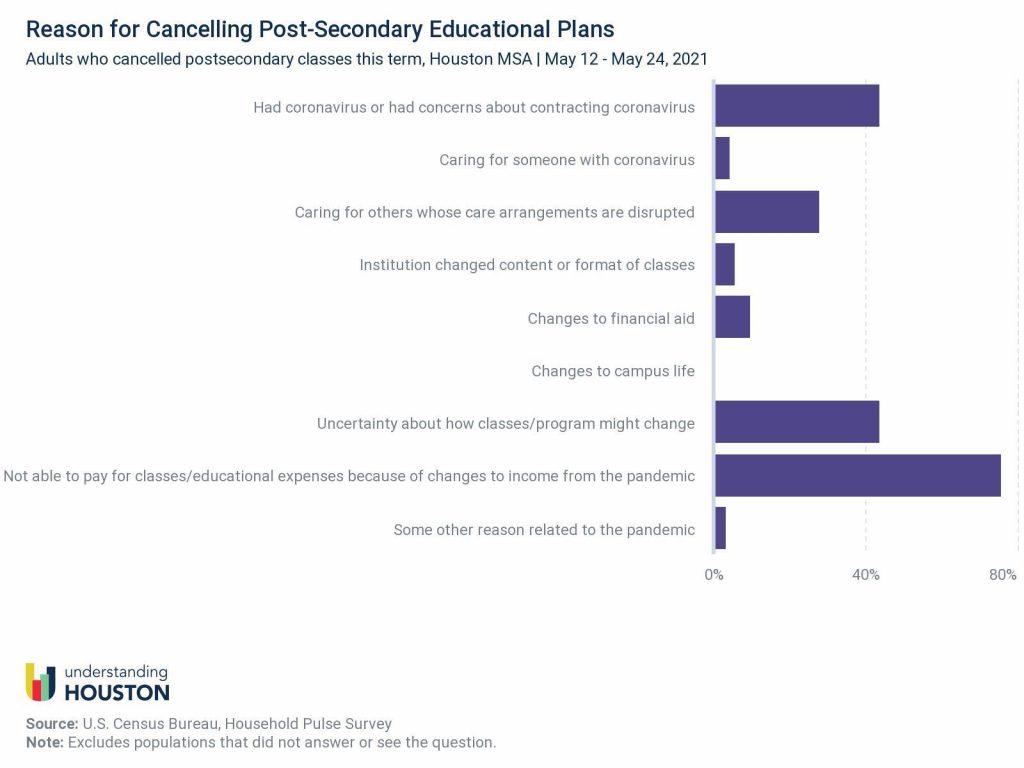 Three out of four students who have decided to halt their post-secondary educational plans cite financial constraints as the main reason. Houston already has one of the lower rates of people with postsecondary degrees among peer metros; if this trend continues, it could have widespread implications on the quality of our workforce.
Student mental health affects academic success
It is impossible to discuss COVID-19 without acknowledging its effects on student mental health. From being cut off from one's peer group and missing out on important milestones like prom, graduation, college visits, etc., to grieving the death of parents and other loved ones, including breadwinners, adolescents are struggling with much more than school.
Hispanics have the highest COVID-19 infection and death rates in the region and the highest rates of employment and income loss. A survey conducted by Latinos for Education found that Latino parents are most concerned with the mental health of their children. Another recent study estimated that nine family members are affected by one person who dies of the coronavirus. Given that Hispanics also make up the majority of students in Houston-area schools, thousands of Hispanic students have experienced the worst impacts of the pandemic, all while still trying to learn.
Research indicates there is a direct link between mental health and academic achievement. It will be impossible to move on from the educational impacts of the pandemic without acknowledging and repairing student mental health, with an emphasis on supporting Hispanic students who have experienced the worst effects.
Looking ahead to 2021-22 with the lessons we've learned
COVID-19 has impacted everyone, but not everyone has been affected equally. Research suggests the pandemic has widened pre-existing disparities in academic performance and the pursuit of higher education. However, educators, school administrators and students have learned much since March 2020. We now know which tactics may work better than others, and we have a clearer picture of how students have been affected — and what they need moving forward.
Educating students while trying to keep their teachers, faculty and staff safe during the pandemic is a challenging task that comes with consequences. As we navigate through another COVID school year, we hope to see improvement in overall student performance alongside practices that prioritize the health and well-being of our children and their educators.