The ongoing COVID-19 pandemic has impacted Houston's business community so drastically that no company is too big — or too small — to feel its effects. Even the healthiest businesses have found themselves in need of emergency assistance to stave off layoffs or permanent closure as a result of plummeting levels of consumer spending, stay-home orders, and fear of catching and spreading the virus to loved ones. And while programs like the Small Business Administration's (SBA) Paycheck Protection Program (PPP) have provided valuable assistance to a number of employers, many of Houston's small business entrepreneurs who most need these funds to survive have been unable to access them — particularly female entrepreneurs and entrepreneurs of color.
The state of minority and female-owned small businesses in Houston
Houston is nationally recognized for its racial/ethnic diversity as people of color make up two-thirds of residents living in Houston's three most populous counties. This reputation carries over to our small business community. According to a national analysis, Houston ranks first in the United States for minority entrepreneurs, based on criteria such as startup density, rate of new entrepreneurs, percentage of companies owned by minorities, and access to financial resources.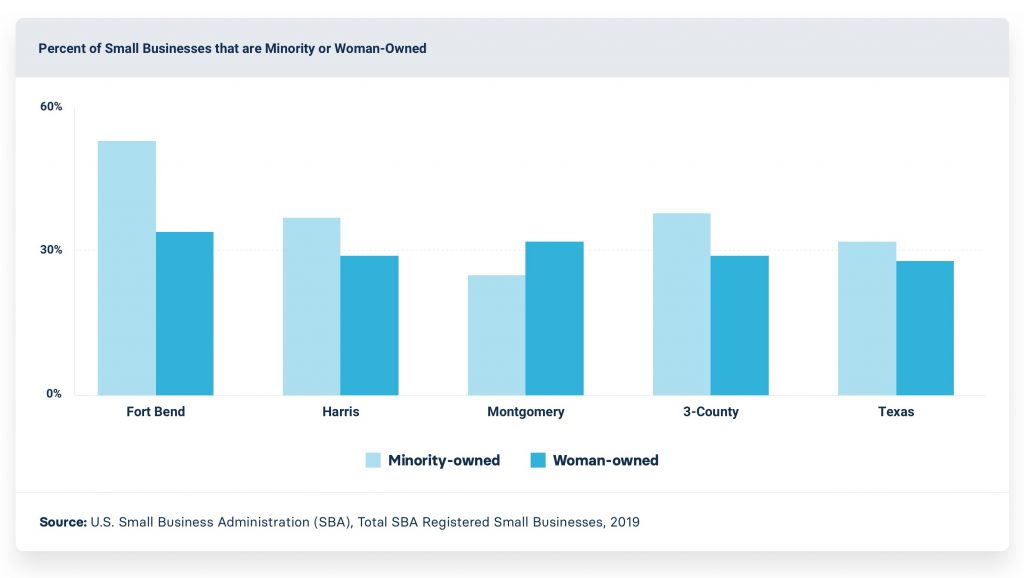 About 38% of Houston's small businesses are minority-owned, higher than the rate for the state. In Fort Bend County, 53% of small businesses are minority-owned. Woman-owned businesses are underrepresented in our regional economy — just 29% of small businesses in Houston are women-owned.
These businesses reflect the entrepreneurial spirit of Houstonians — forging their own economic path with talent and persistence — sometimes as a necessity to overcome employment barriers, challenges in building personal wealth, and discrimination.
The importance of small businesses and Paycheck Protection Program loans
Both in Houston and across the nation, small businesses are vital to the financial and economic health of our communities. About 63% (68,500) of firms in the Houston Metro area are small businesses with fewer than 10 employees, according to the 2018 Annual Business Survey from the Census Bureau. Across the three-county region, 559,000 establishments with no paid employees (representing self-employed entrepreneurs) — generated $28 billion in receipts in 2017, according to the Census Bureau's Nonemployer Statistics.
As a means of helping these businesses weather the economic storm accompanying the COVID-19 pandemic, the federal Paycheck Protection Program (PPP) loan began to deploy $349 billion to provide "small businesses" with up to $10 million in forgivable loans as long as certain requirements are met. The program allowed all businesses — including nonprofits, veterans organizations, tribal businesses, sole proprietorships, self-employed individuals and independent contractors — with 500 or fewer employees to apply.1
Issues with the Paycheck Protection Program loans
While the broad eligibility criteria allowed many small businesses to apply for relief, the exceedingly fast process and unclear guidance for borrowers and lenders had a narrowing effect, as businesses with significant capacity and legal/financial expertise were best positioned to apply. Furthermore, the 7(a) loan was quickly administered by banks that were existing SBA-certified lenders, a pool of lenders that has been criticized as having an insufficient track record of providing access to capital to underserved businesses owned by women and people of color.
In less than 14 days, all PPP funds were exhausted due to high demand, with more than 1.6 million loans processed by about 5,000 lenders.2 It's estimated that as of April 17, approximately 80% of small businesses that applied for a loan were still waiting for answers the day after the program ran out of funds.
Why minority- and woman-owned businesses in Houston are struggling
Even before COVID-19, many Houston-area small businesses, microbusinesses, and sole proprietorships led by people of color and women faced financial challenges at disproportionate levels relative to White small business owners in our region. On average, minority-owned businesses in Houston are denied loans at three times the rate of non-minority-owned firms. The COVID-19 pandemic has only exacerbated these challenges in Houston. Many small businesses owned by minorities historically have lacked access to established accounting infrastructure and banking relationships that would allow them to access substantive capital such as the federal PPP loan.
Some issues that prevent small businesses from accessing capital through PPP loans include:
Low employee count: The financial incentives associated with PPP loans encouraged lenders to serve clients with larger loan sizes, meaning larger "small businesses" were more likely to have their requests approved than those with fewer employees. For context, 90% of businesses owned by a woman or minority in Metro Houston have fewer than 100 employees, according to the Annual Survey of Entrepreneurs. In response, some large banks have donated their fees totalling millions of dollars to nonprofit organizations.
Smaller operations: Given that microbusinesses, sole proprietors, and contractors often have very low fixed costs (e.g., payroll, rent, utilities), the PPP loan rules and forgiveness conditions often do not truly apply to many small/micro minority- and/or woman-owned businesses as they are more likely than other groups to not have employees and significant overhead costs.
Major local efforts in Houston to support small businesses have faced challenges, despite good intentions. For example, a $10 million loan fund in Harris County was depleted in less than 48 hours, with broad eligibility criteria and credit requirements that made it difficult for small/microbusinesses led by people of color to access these funds.
Understanding Houston's needs on the long road to recovery
Small businesses are critical to our region's economic success. When small/micro-business owners and self-employed entrepreneurs are unable to provide for themselves, their employees and their families, entire communities suffer. And when the safety nets in place are unable to accommodate the needs of the most vulnerable small business owners, the economic inequalities affecting our region will only intensify.
As our region continues to work toward a long recovery process, thoughtful and direct action on behalf of minority- and woman-owned businesses will be needed to help these valuable institutions survive. Access to the right information is vital to making these important decisions. As we research and work toward a plan for our region, we invite you to explore the data, get involved and use Understanding Houston to learn more about what matters in our communities.
End Notes:
1 Businesses in certain industries can have more than 500 employees if they meet applicable SBA employee-based size standards for those industries.
2 "The SBA has processed more than 14 years' worth of loans in less than 14 days," said U.S. Treasury Secretary Steven T. Mnuchin and SBA Administrator Jovita Carranza in a joint statement.