Poverty and Social Mobility in Houston
Exploring how systemic factors limit participation in the Houston economy
Although poverty rates are improving throughout our region, emerging economic trends leave us vulnerable.
Why poverty matters to Houston
Across the three-county area, 23% of children under five years old were considered in poverty, higher than the nation. The problem is worse for single-parent families with children, with 34% of such households living in poverty in 2017. Furthermore, we see 237,705 workers who live in poverty and about one-in-four households who are considered asset limited and income constrained despite being employed across the three-county area.1 When fewer Houstonians live in poverty, our ability to grow and thrive in our communities increases significantly. Lower rates of poverty translate to reduced crime rates, improved community health, greater academic achievement and even improvements to infrastructure, all of which set a standard for growth and success moving forward.2,3

Fighting poverty and its effects in our communities requires cooperation and active engagement from all levels of society — and it all starts with an informed perspective.
The data
Higher concentrations of poverty contribute to growing inequality
The share of people living in poverty impacts economic vitality in our region. Because income is unequally distributed in Texas and across the three-county area, economic hardship endures while wealth is increasingly concentrated among the richest households. Those in the top 20% income groups across the three-county area received between 48% and 53% of all income in the area, yet the bottom 20% only received between 3% and 4% of all area income.
Those hit hardest by financial hardships are those considered to be in poverty. According to official federal poverty guidelines, 853,156 people or 14.4% of the total three-county population is impoverished, 1 percentage point higher than the national figure.4
Although any amount of poverty is problematic, promising signs of progress are being seen. Between 2010 and 2017, the percentage of the three-county area population in poverty decreased by 2.6 percentage points (15,630 people). Poverty rates have also decreased in all three counties. The percent of total population in poverty dropped by 2.9 percentage points in Montgomery County, and the number of people living in poverty decreased to 3,335. Although the poverty rate decreased from 9.1% in 2010 to 8.2% in 2017 in Fort Bend County, the total population living in poverty increased from 53,162 to 62,597, an increase of 18%. Because Fort Bend County's population is growing so quickly, it can sometimes mask overall trends visible in the raw numbers. It's an important reminder for all three quickly growing counties.
The racial characteristics of poverty in the Houston area
Of those living in poverty in 2017, Hispanics are overrepresented in the nation, the state and in all three counties. In Texas and the three-county area, Hispanics make up about 56% of the population in poverty, despite making up just 39% of the total population.
In 2017, less than 10% of the White population was in poverty across the nation, compared to 25% of the Black population, 22% of the Hispanic population and 12% of the Asian population. The figures in Texas and in Harris County are similar to the national figures, but lower percentages of Hispanic and Black residents live in poverty in Fort Bend and Montgomery counties.
The family characteristics of poverty in the Houston area
While the three-county area collectively shows the same statistical trends as the state and the nation, the differences between counties are stark. Harris County has much higher shares of married couples with children and single-parent families living in poverty. Montgomery and Fort Bend counties have nearly identical shares of people in poverty by demographic group and possess lower rates of family poverty than the rest of the nation and state in each category.
Young children growing up in poverty
Research has shown that children growing up in poverty are more likely to face toxic stress and conditions that leave permanent changes in their brains, with implications for learning, health and behavior. Persistently poor children are nearly 90% more likely than never-poor children to enter their 20s without completing high school and are four times more likely to give birth outside of marriage during their teenage years.5
While we see a decrease in child poverty over time, too many children are still facing the challenges of poverty that have lasting consequences.
Across the nation, state, and three-county area we see shrinking portions of children living in poverty since 2010. Still, one-in-five children are living in poverty in the three-county area, with a concentration within Harris County.
How disengaged youth impact Houston poverty rates
Disengaged youth are those between the ages of 16 and 24 who are not enrolled in school and who are unemployed or not in the labor force. There are over 110,000 youth identified as disengaged youth in the Houston metro area. Although the number of disengaged youth has fallen in recent years, once a young person becomes disengaged, it becomes increasingly difficult to reconnect them to opportunities in education and skill development.6 Being disconnected is both a consequence and a cause of poverty.
Nationally, three out of five disengaged youth say they grew up in a poor or working-class family.5 In Houston, 55% of disengaged youth lived in households with an annual income below $25,000 in 2016.6
Approximately 8.3% of the 16-to-19-year-old population are neither working nor attending school in Texas, a higher share compared to the national average and the three-county area estimates. We highlight this age group because those youth are most likely high school dropouts who don't have a diploma.
However, the overall percentage of disengaged youth aged 16-to-19 years dropped since 2010 in the U.S, across Texas, and across the three-county area.
Rates of disengaged youth aged 16-to-19 throughout the three-county area tell a mixed story. Between 2010 and 2017, Harris County saw the biggest improvement with a 2.6 percentage point decrease in this population. Harris County still possesses notably higher rates of disengaged youth aged 16-to-19 compared to Fort Bend and Montgomery counties, and both Harris and Montgomery counties still possess higher rates of disengaged youth aged 16-to-19 than the national average.
Despite assumptions regarding urban poverty, high concentration of disengaged youth is also found outside of central Houston, including in Grangerland within Montgomery County on the east side of I-45 and Magnolia on the west side.6
Understanding the working poor in the Houston area
Although many believe that having a full-time job with a steady income allows someone to overcome poverty, the reality is that many full-time workers find themselves still poor.
These working poor are defined as individuals who have at least one job, but whose income is below the federal poverty line due to lack of working hours or low wages. With low-wage industries continuing to grow, there is a significant risk that the working poor population will increase, particularly among Hispanic and Black workers, contributing to income inequality.7
While many job opportunities exist within major urban employment centers, many low wage workers have to commute long time and distance, resulting in added stress, time and transportation costs.7
The working poor population has decreased nationwide since 2010. Across the region, Harris County had the highest percentage of working poor, at 8.6%, or 206,996 out of 2.4 million total workers — nearly double the figure for Fort Bend and Montgomery counties.
Understanding the ALICE population in our region
Measures of poverty that take into consideration more realistic costs of living show that many working families are struggling.
The acronym ALICE stands for Asset Limited, Income Constrained, and Employed. It represents residents who are working but unable to afford basic necessities like housing, food, childcare, health care and transportation. ALICE thresholds include a more realistic cost of living than federal poverty guidelines.8
To put things in perspective, the Texas cost-of-living in 2016 was $52,956 for a family of four and $19,428 for a single adult, which are both significantly higher than the federal poverty level of $24,300 for a family of four and $11,880 for a single adult. ALICE thresholds across all three counties indicate that for a family of four a more realistic "survival budget" is at least $61,404. With Harris County's median household income below this threshold, it is no surprise we see higher portions of ALICE households in Harris County than in either Montgomery and Fort Bend counties.
Combining households living at or below the poverty line and those who are ALICE, 40% of households (819,024) are struggling financially across the three-county area.
Social mobility in the Houston area
Social mobility, or intergenerational mobility, measures how easily individuals can advance economically compared to their parents. To a great extent, it is a central component of the "American Dream." It reflects the aspiration that through hard work and determination anyone can achieve their highest goals and fullest potential.
Nationally, more than 90% of children born in the 1940s grew up to earn more than their parents. But over the past 50 years, this rate has been in decline, and is now only 50%, contributing to growing income inequality across the country.
Social mobility by county
A great deal of upward social mobility depends upon where one lives during childhood and what type of resources their family possesses. Children raised in low-income families have a much harder time securing higher incomes in adulthood. In Harris County, for example, the average child born between 1978 and 1983 from a low-income family earns a household income of $33,000 at age 35.9 This compares to a low-income child of the same birth cohort in Fort Bend County making $35,000 a year, and in Montgomery County making $36,000 a year. In all three cases, the average child barely improves upon the income of the household in which they grew up.10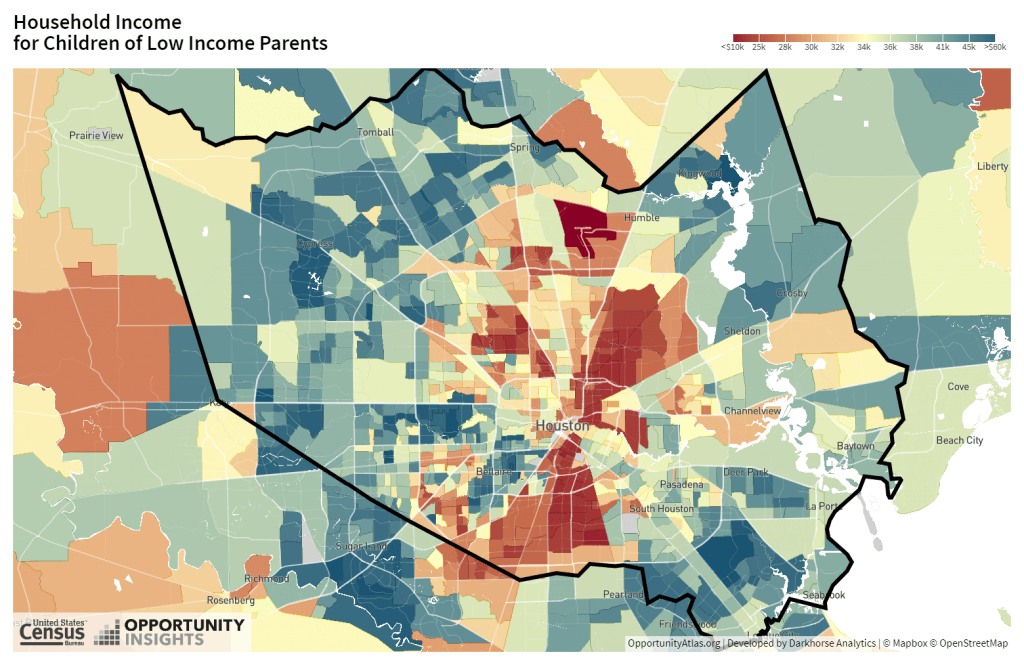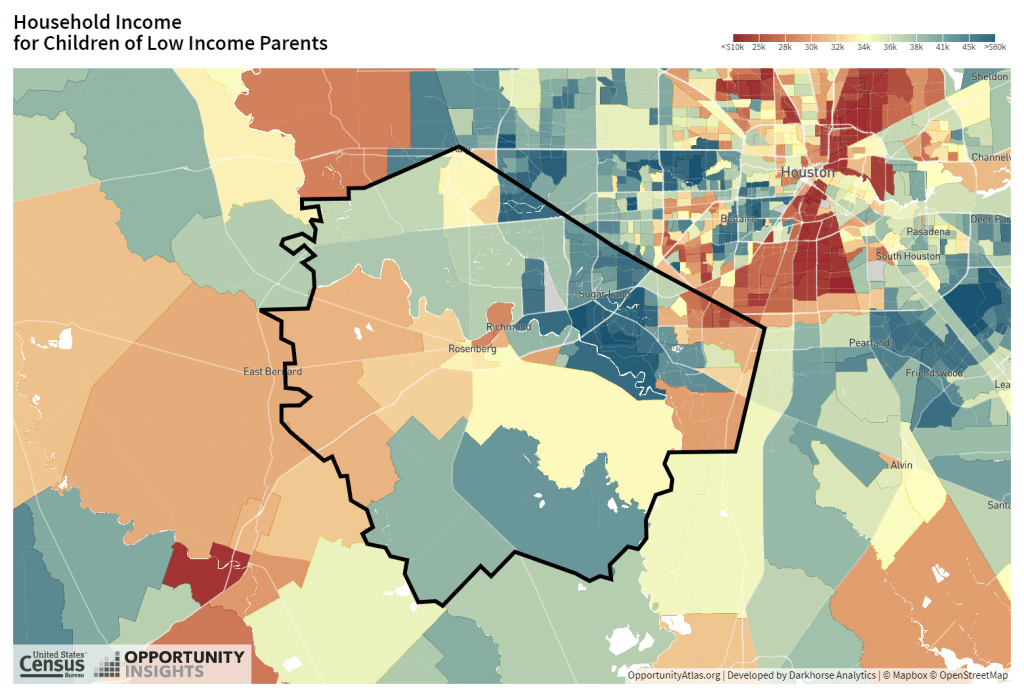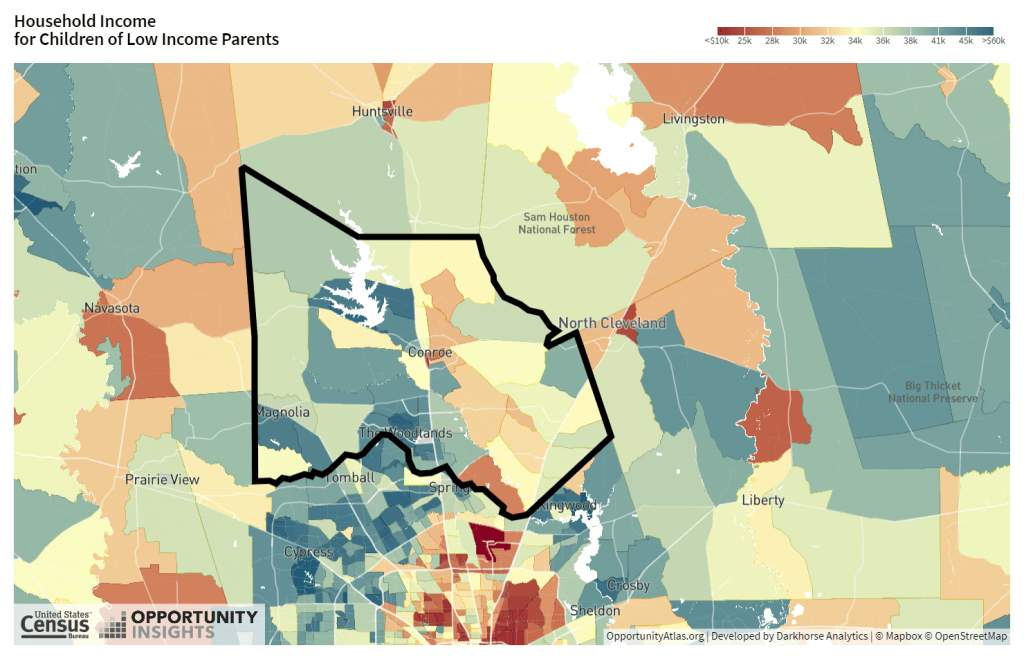 Within each county, one's childhood ZIP code can tell a great deal about expected outcomes. On average, a child from a low-income family raised in Bellaire surrounded by a peer group from a higher-income bracket has a much greater chance of earning a higher household income than a low-income child raised in Fifth Ward. Similarly, a child from a low-income family who grew up in New Caney, between I-45 and I-59, earns a household income of $33,000 as an adult, compared to a low-income child from The Woodlands making around $50,000. About 40% of women who grew up in low-income families in Rosenberg claimed to be a teenage mom, compared to less than 10% of those growing up in low-income families in Sugar Land.
Although a child from a low-income family raised in Greater Third Ward and a child raised in North Forest have equal chances of earning a household income of $20,000 in adulthood. However, the children face different outcomes in terms of the potential for interactions with the criminal justice system. Approximately 5.5% of children who grew up in the Greater Third Ward were in prison or jail, compared to 7.3% of those growing up in the North Forest area.
Race and social mobility
Additionally, social mobility can also affect subgroups in the same neighborhood in different ways, shedding light on some racial and class-based disparities. For example, the average Black child from a low-income family in Fort Bend County earns a household income of $27,000 in adulthood, compared to $44,000 for a White child. Similarly, a Black child from a low-income family raised in Montgomery County earns a household income of $25,000, compared to a White child making $39,000.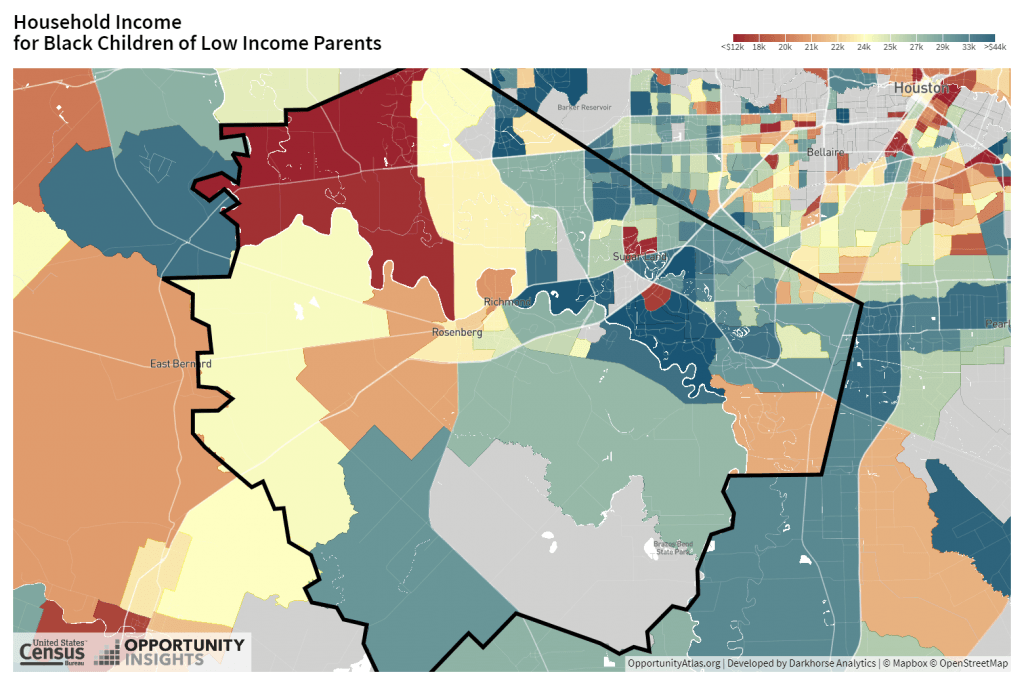 Big data has also shown downward ability varies by race. Black boys who grow up in America, even from an affluent family and live in a good neighborhood, still earn less in adulthood than White boys with similar backgrounds.11 White boys from affluent families are more likely to stay wealthy in adulthood while Black boys from similar families are more likely to become poor rather than retain their socioeconomic status as adults.
All those discrepancies illustrated by the Opportunity Atlas tool help to shed light on how different neighborhood shapes the development of human capital and supports economic growth.12 A rigorous study found that the longer a child lived in a better environment during childhood, the higher their chance to have better long-term outcomes.13 By moving families to a high mobility neighborhood that has a low poverty rate, more stable family structures, greater social capital, and better school quality, children from those families can obtain income gains in adulthood. The research suggests the need for a holistic approach to reduce racial disparities and improve upward mobility for all.

Resources
References:
United Ways of Texas. "United Way ALICE Report – Texas," United Ways of Texas (2016).
Wilson, William Julius. The truly disadvantaged: The inner city, the underclass, and public policy, Paperback edition. University of Chicago Press, 1990.
White House Council for Community Solutions, Final Report: Community Solutions for Opportunity Youth, 2012. Web.
Office of the Assistant Secretary for Planning and Evaluation, "Poverty Guidelines," U.S. Department of Health and Human Services, last modified 2019.
Ratcliffe, Caroline E., and Signe-Mary McKernan. "Child poverty and its lasting consequence." Urban Institute Low-Income Working Families Working Paper 21 (2012).
Durand, Casey P., Adriana Garcia, Ryan Holeywell, Kimberly Johnson-Baker, Heather O'Connell, Ethan Raker, and Jie Wu. "Houston's Opportunity: Reconnecting Disengaged Youth and Young Adults to Strengthen Houston's Economy." Rice Kinder Institute for Urban Research (2016).
Wu, Jie, Yujie Hu, Mingming Zhang, and Grant Patterson. "Accessing Opportunity: Employment and Community Patterns among Low-, Medium-, and High-Wage Workers in Houston." Rice Kinder Institute for Urban Research (2018).
United Ways of Texas, "ALICE Budgets by County" United Ways of Texas (2018)
Low-income is defined as those families at the 25th percentile of household income.
Indicators. "Working Poor: Houston-Baytown-Sugar Land," National Equity Atlas, last modified 2018.
Badger, Emily, et al., "Extensive Data shows Punishing Reach of Racism for Black Boys," The New York Times, March 19, 2018.
Chetty, Raj, et al. "The Opportunity Atlas: Mapping the Childhood Roots of Social Mobility." National Bureau of Economic Research, no. w25147 (2018).
Chetty, Raj, Nathaniel Hendren, and Lawrence F. Katz. "The Effects of Exposure to Better Neighborhoods on Children: New Evidence from the Moving to Opportunity Experiment." American Economic Review 106, no. 4 (2016): 855-902.